If you are visiting the blog of a recruiting firm like Bradsby Group, you are probably at least considering whether your current employment fits into your career goals. Sometimes this question means it's time to look for a new job, but other times the answer is right there within the organization you're already part of, just a promotion away. Your chances of getting the internal job you covet depend on how you go about asking for the promotion. It also depends on what you've done before you even think of asking. Your history with the organization positions you to be considered (or not considered) for your next role. Here's how to ask for a promotion…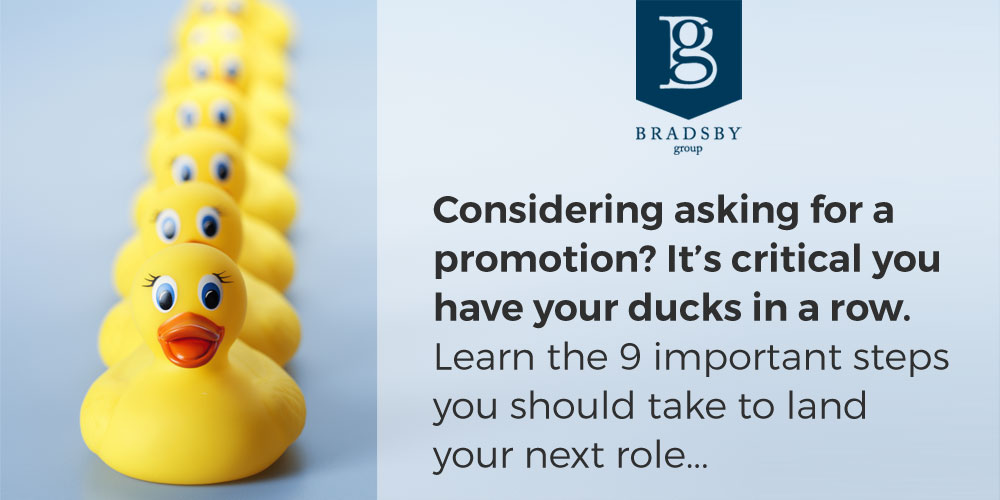 What to do before you ask for a promotion
Be your best. Whether asking for a promotion or not, top talent works to exceed expectations. Someone who consistently delivers on goals and enhances team success is demonstrating their value to the company every day.
Discuss your career goals. In many organizations, this is a standard part of annual or six-month employee reviews. Even if it isn't, consider bringing it up yourself as it applies to movement within your firm. "Tell your boss you'd like to get promoted within a year," writes Paul Petrone for the LinkedIn Learning Blog, citing career advice from instructor Todd Dewitt. "And then ask them what specific skills and accomplishments you need to acquire to get that promotion." This communicates that you want to earn the promotion and continue to grow.
Keep learning. Be curious and take advantage of optional workshops as they are offered. Ask to be trained in new skills and mentored in leadership.
Lead now. Step up to spearhead new initiatives. Suggest ideas to improve processes and volunteer to train others. And keep good records so you can document your contributions on your resume.
Ready, set, go! How to ask for a promotion
Once you have laid the proper groundwork, and your ducks are in a row, you're ready to take the following five steps in asking for a promotion.
Time it right. There is no one best time to ask for a promotion. "It depends on your career field, the turnaround of your department, the financial resources of the company, and your personal track record," says Jayson DeMers in an article for Inc. By being aware of the current corporate "climate," you can pick an advantageous time. And if your boss is experiencing a personal crisis, you'll find it difficult to get your request heard as more than another annoyance. Demonstrate emotional intelligence and wait a bit.
Talk to the person leaving. Ask questions to learn more about the day-to-day of the job and why they have decided to move on. If you think it still sounds like a good fit for you and they are leaving on good terms, consider asking them to recommend you as their replacement.
Prepare as you would for a job interview. Pull out your records on how you have benefitted the organization to date and prepare a resume-like document to share with the decision maker.
Ask, don't demand. An entitled attitude will not come across as a positive trait. Even if you have worked in your current role for a couple of years, remember that a combination of merit and seniority is the basis of a sound promotion policy.
Ask the right people. Your boss should be the first to know. If you are seeking a "horizontal" promotion into a different department, it still shows respect to talk with your boss as well as the manager for that department. Depending on the size and culture of your organization, it might also be appropriate to speak with someone higher up.
Advance your career
Sometimes, exploring the best ways how to ask for a promotion can actually lead to the realization that you should start to look outside your own company. If you decide your career path requires that you find an opportunity with a new company in one of the industries we partner with, reach out today to our recruiters. We'll work with you to find an opening that is a great fit for your talents!