Should a resume be one page long?
Resumes should be kept to just one page – isn't that the conventional wisdom we've all been taught about the job search? Make it longer than that and kiss your chances goodbye, right? Well, not quite. Turns out it's a bit more nuanced than that. Once and for all, let's answer the age-old question: "Should a resume be one page long?"
"Times have changed, and so has the criteria for resume length," writes Kim Isaacs, Monster's resume expert. "The new guideline is: A resume should be long enough to entice hiring managers to call you for job interviews. That may sound vague, but there is no hard and fast resume length rule that works for everyone."
Katherine Hansen, writing for Live Career, also says the one-page standard no longer applies. "Very few rules exist today in the world of resume writing," she states. "Unbreakable rules include: you can't lie, you can't have typos or misspellings; and you can't include negative information."
Okay, now that we've answered the question of "should a resume be one page long?" with a firm "not necessarily," let's look at how to decide on an appropriate length for your resume and how to make it enticing to hiring managers.
How long should you make your resume?
It's true that new graduates seeking their first placement are still often advised to keep it to one page. That's primarily because they don't have a wealth of experience to share yet. The Resume Professionals group advises that the appropriate length is generally one to three pages, depending on whether you are at the beginning of your career or have decades of experience and are seeking an executive placement.
Don't confuse a CV, or curriculum vitae, with a resume . A CV covers your complete education, work experience, and accomplishments. "Your resume is a career marketing tool, not your autobiography," says Isaacs. Focus your resume on why you would make a strong candidate for a particular job at a particular organization.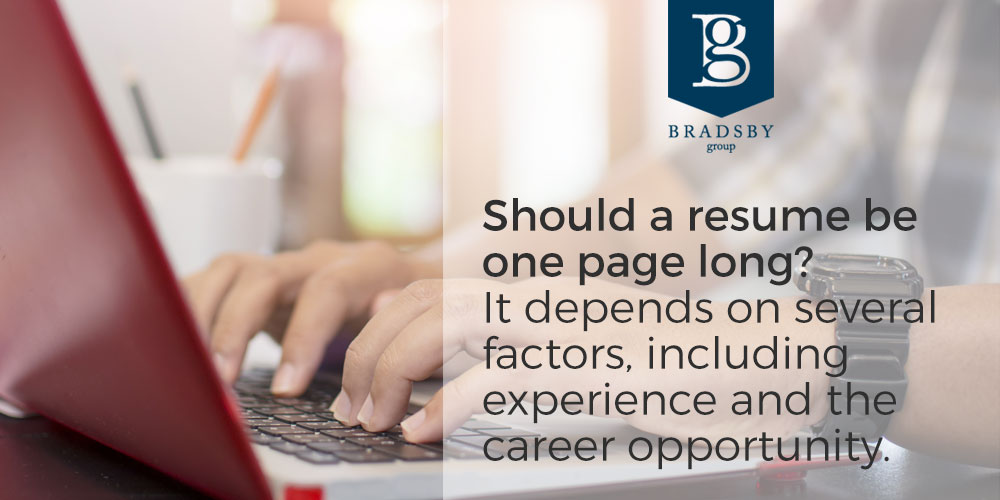 Should a resume be one page? Bradsby recruiters weigh in
Here at Bradsby, we counsel candidates to remember the resume needs to demonstrate your fit for our client's position in a form that is quick to digest, rather than adhere to an artificial rule about length.
But do make your resume concise. This has little to do with how long it is. Be ruthless in eliminating wasted words or anything that have nothing to do with the job you seek. You want to provide the right information with the right amount of detail. Too little is as harmful to your cause as too much.
Especially with executive search firms and recruiters, you may find that addenda to your resume are helpful. These are supplemental pieces that cover things like presentations and awards, published works, or extensive educational credentials. Addenda provide you with the flexibility of sharing this information along with the resume, depending on whether it is helpful, or of printing them to take to an interview.
We're here to help
We hope we've been able to provide helpful updates to recruiting best practices and answer the question, "Should a resume be one page?"
If in your executive career transition you are interested in working in one of the industries Bradsby Group represents, we are interested in seeing your resume. You can check out openings on our Candidates page.