Oil and Natural Gas Industry Growth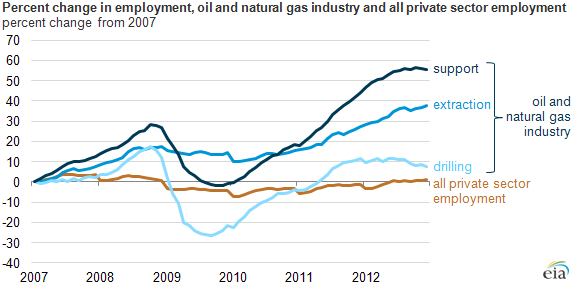 The API recently commissioned a report which detailed the economic impact of the oil and natural gas industry on the US economy. The impressive results showed the industry creating/supporting 9.8 million jobs in 2011 and accounting for 5.6% of employment across the US. Similarly, the US Energy Information Administration recently published findings showing the oil and natural gas industries have greatly impacted the US employment industry at a much faster pace than the private sector over a five year time frame (equivalent to a 40% rise for the oil and natural gas industry vs. 1% in the private sector).
The industry continues to be an important jobs creator to the US economy today, according to the most recent jobs report released by the US Department of Labor. The second quarter of 2013 showed strong job growth in the oil and natural gas industry, with the creation of 4,000 new positions. Texas and Louisiana led the way, adding 3,500 new jobs between them.
Oil and natural gas is clearly a booming business and we're thrilled to be a part of it. Our experienced recruiters are here to help. If you're looking for a job in the field or need help keeping up with your hiring demands, please contact us.
Source: http://www.eia.gov,  http://www.api.org, http://www.bls.gov