How to reach out to a recruiter: 3 crucial steps for success
At some point in your career, you've likely pondered the best way how to reach out to a recruiter. When you decide to make a career change, one of the first steps is to let recruiters know you're shopping. Some ways to do that can help you; others not so much. The impression you make in these initial contacts can be critical.
Create the right relationship
One of the most vital things to remember is that you're initiating a three-way relationship. Recruiters are paid by the employers they represent. Recruiters match the needs of clients to the goals of candidates.
Recruiters are also extremely busy, communicating with lots of eager job hunters and reviewing an avalanche of resumes every day. Establish a positive relationship and you'll stand a better chance of being remembered in a good light when the perfect position opens up.
A congenial, considerate tone is crucial. Being pushy will get you nowhere. If recruiters recommend a candidate to one of their clients, only to have the candidate put off the client because of a rude or brash manner, it reflects poorly on the recruiter. The opposite is just as true — give them good reason to trust your professional demeanor.
Recruiting agencies often specialize in particular industries or regions. Whom you contact is just as important as how to reach out to a recruiter. If you know a company or industry where you want to work, do research to learn about who's recruiting for them.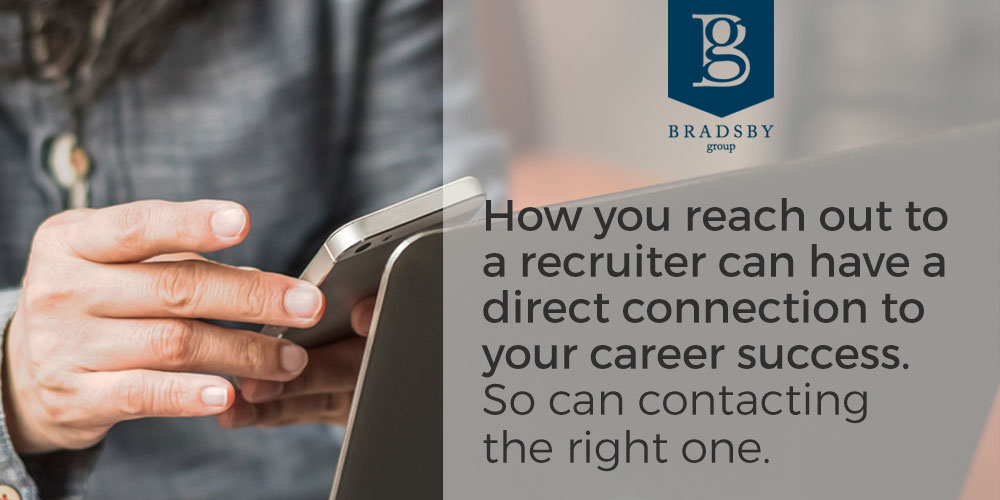 How to reach out to a recruiter using LinkedIn
Look for contacts you have in common. When you find some, ask for insights into how the recruiter in question operates. For instance, do they prefer emails or LinkedIn messages? You also might be able to get a referral or introduction. "You have one chance to make a first impression," career transition expert Melissa Llarena reminds us in her article in Forbes, "so determine your communication plan prior to outreach."
Look for other commonalities, too, professional or otherwise. Do you enjoy similar outdoor activities? Did you graduate from the same university? Do they serve on the board of a charity whose mission you resonate with? Common affiliations like this can provide icebreaking connecting points.
Ruiz also recommends carefully crafting your initial message. "Let them know that you're in the market, briefly explain your area of expertise, and offer to help with any information or insight that can help them close their open positions," advises Ruiz. Yes, you want an executive opportunity and they may be the gatekeeper. But they have a job to do, too, and ideally you will make theirs easier.
You'll build value for yourself when you approach recruiters this way, and that can only help you. If a particular job does not pan out, the recruiter will be more likely to keep you in mind for others that come along.
Meeting with a recruiter
After your initial contact, you may meet in person. To make the most of this opportunity, follow these guidelines, from an article in Executive Career Insider by Bill Weber of Development Guild DDI:
This is not the job interview, but recruiters are interested in knowing your professional accomplishments. Think through the questions you want to ask. Be prepared to provide a salary range.
Practice the basics of good interviewing. Dress as if you are going to meet the CEO. Get there 10 minutes early. Answer questions authentically. Never bad mouth a former employer.
Follow up. Send a prompt thank-you email. (these are generally acceptable today in lieu of handwritten notes) If you haven't heard anything at the 10-day mark, contact the recruiter again to politely check in for an update. And never, never, go around the recruiter to the hiring manager of the company they represent.
How you reach out to a recruiter can have a direct connection to your career success. So can contacting the right one for what you want to do.
How to reach out to a recruiter at The Bradsby Group
Whatever the reason for your career change, our experienced team of recruiting pros is here to make your transition positive a positive one. We're also committed to a recruiting process that is streamlined and private. The Bradsby Group's goal is to create the best match between your skills and aspirations, and the needs of our clients.
Check out our Candidate Portal, where you can view job postings, upload your resume, and more.