How Millennials Could Change The Workforce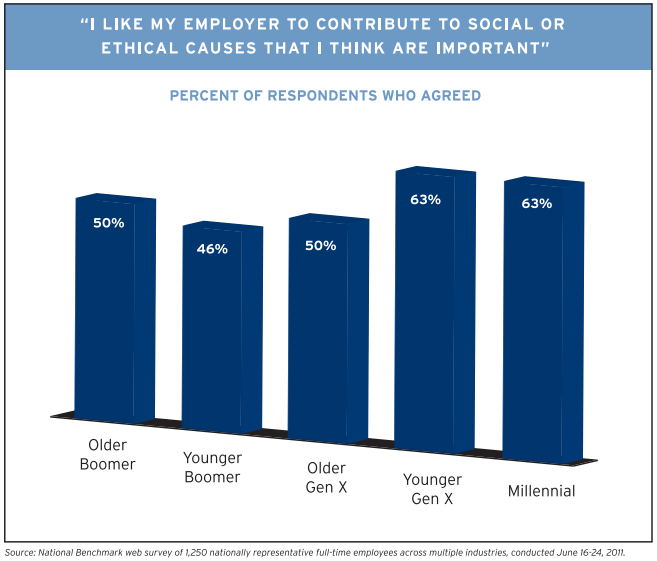 Would you rather have a high paying job that you hate or a low paying job that you love? It's not about the money for millennials (those born somewhere between the early 1980s to the early 2000s), according to a new paper titled "How Millennials Could Upend Wall Street and Corporate America" written by Morley Winograd and Mike Hais. The paper, the third in a series on 21st-century capitalism by the Brookings Institute, suggests that millennials' attitudes about work and social responsibilities differ from their predecessors. This is important because according to the paper, millenials will make up approximately 75% of the workforce by by 2025.
According to the paper, millennials are interested in having their daily work be a reflection of their societal views. "A recent Intelligence Group study found that 64% of millennials said they would rather make $40,000 a year at a job they love than $100,000 a year at a job they think is boring." Millennials want to work for brands that are socially consciousness.
The paper suggests that millennial culture, which includes liberal views on personal wealth and social responsibilities, will shift the standing priorities of corporate America and Wall Street as we know it. Some key millennial values included in the report are below:
Interest in daily work being a reflection of and part of larger societal concerns.
Emphasis on corporate social responsibility, ethical causes, and stronger brand loyalty for companies offering solutions to specific social problems.
A greater reverence for the environment, even in the absence of major environmental disaster.
Higher worth placed on experiences over acquisition of material things.
Ability to build communities around shared interests rather than geographical proximity, bridging otherwise disparate groups.
 Click here to read the Brookings Institute paper in its entirety.