Explosive Denver growth fueled by innovation and entrepreneurship
We love Denver! The sun shines something like 300 days out of the year, the Rocky Mountains are just outside the city's front door, and the Rockies baseball team calls this home. If football is your game instead, there's that other team, too, the one that has something to do with a horse. The Bradsby name comes from a baseball bat, though, so our sports loyalty should be no surprise. Bradsby Group has been in Denver since our firm's beginning, and today more than ever it's a great place to live and conduct business. Apparently, plenty of other businesses think so as well, because Denver growth is explosive, in both population and economic vitality.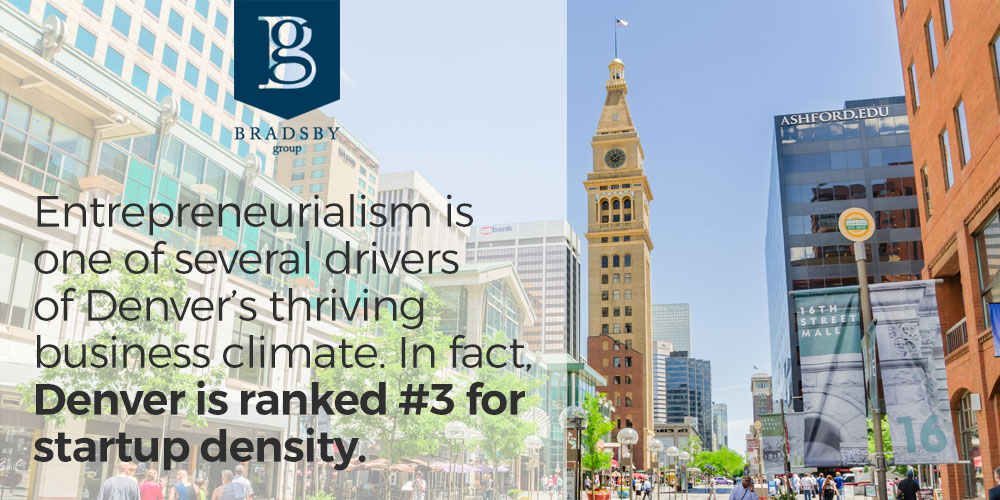 Denver growth by the numbers
The Denver Post reported in October that Denver currently ranks fifth among large U.S. cities in economic growth. Here are some specific indicators from Downtown Denver Partnership's 2018 report:
Denver is ranked #1 as best place for business and careers, according to Forbes.
Since 2010, Denver has had a 74% increase in tech employment
Denver is the top metro area in the U.S. for small business employment, according to Paychex.
Denver has the highest increase in the country in skilled labor, according to JLL.
At Denver Startup Week in September, presenters shared data showing entrepreneurialism as a driver of the city's thriving business climate. In 2018, Denver ranked third of the U.S. for startup density, the measure of the number of startups per 1,000 firms, with a score of 92.31. (Startups were defined as businesses that were founded within the past ten years and that have fewer than 100 employees.) These stats and more can also be found in Downtown Denver Partnership's 2018 report.
A place where entrepreneurialism and innovation thrive
"From early stage entrepreneurs, to rapidly scaling businesses, to our city's most established companies, innovation of all sizes thrives" in Denver, says Startup Week sponsor Downtown Denver Partnership. Their 2018 report also states, "Downtown Denver's highly educated and in-demand workforce is growing to support the center city of business and innovation."
Denver's unemployment rate is below 3 percent. Margaret Jackson writing for Confluence reported in October that 6.2 percent of Denver's total employment is in the tech sector, putting it at #10 nationwide. (The national average of tech workers is 3.5 percent.)
Other thriving industries in the Denver market include finance, professional services, health and life sciences, energy resources, and both commercial and residential construction.
Not only is Denver tops in the U.S. in terms of job growth, according to Denver Business Journal's June 2018 article, it ranks #3 for wage growth. Jackson points out that Denver's average annual tech wage of over $100,000 and its continuing upward trajectory contribute to the ability of businesses to attract and retain highly skilled labor. Likewise, the recreational options, cultural aspects and the healthy lifestyle of our city make it a place many individuals and families want to live.
When your business is poised for growth, Bradsby Group is your partner!
The business atmosphere in Denver is indeed exploding due to entrepreneurism and innovation. Let us know how we can help you build your all-star team and grow your place in this exciting market.