Construction Industry Forecast
The January jobs report may at first glance appear lackluster, as the Bureau of Labor Statics (BLS), reports only 113,000 new non-farm jobs added (175,000 were anticipated) and the unemployment remained at 6.6%. But there is still plenty of good news in the report. The overall unemployment rate is at its lowest point since the fall of 2008 and job growth is occurring steadily in construction, manufacturing, wholesale trade and mining. The construction industry was the standout in the report, having added 48,000 jobs in January, in both residential and commercial construction. Manufacturing increased by 21,000, wholesale trade by 14,000 and mining by 7,000.
The American Institute of Architects (AIA) predicts significant gains in the construction industry in 2014 and 2015. Their report suggests that the construction industry will benefit in the coming years from 1) a rise in new home building 2) lower energy costs 3) a strong manufacturing industry and 4) an increase in consumer spending. Check out the results the AIA compiled from national construction forecasters on how the industry is expected to fare over the next two years: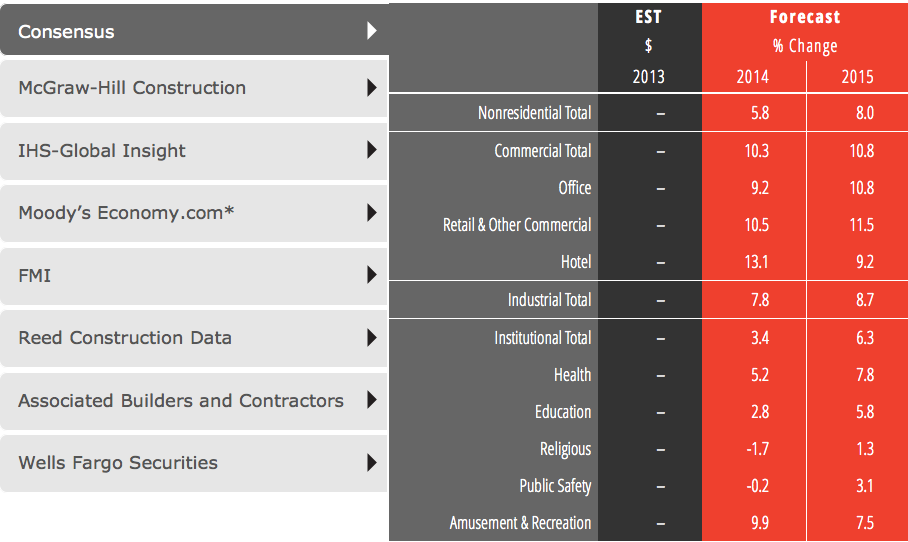 Check out our construction and manufacturing openings on our job search page.
For more information on the BLS January Jobs Report click here.
For more information on the AIA Consensus Construction Forecast, click here.