The bountiful benefits of hiring before the end of the year
The end of 2018 is within sight. For most businesses other than retail and hospitality, it's time for reflection, for evaluating how the past year has gone and for planning the execution of 2019 strategies. Budgets and bottom lines get examined, and projects get wrapped up to clear the deck for the next ones. And let's not forget the celebrations that are in the works both at work and in our families and communities, with lots of good food and gifts and music.
The end of the year is a lousy time to hire, isn't it? Isn't it best to just wait till January?
Actually, that's not a good idea. If your business has a staffing need, don't put off filling it.
Five reasons for hiring before the end of the year
Position yourself well to begin the new year strong
Don't put off hiring until the last minute. Holiday shoppers who get their gift buying done before Thanksgiving teach us by example. Come January, you will have initiatives to launch, and you don't want to hamper them by a need still hanging over your head to hire and train a new team member.
Avoid the rush
As a hiring manager, you may have more flexibility now with interview times and the onboarding process due to the holiday wind-down. Candidates, too, likely are in less of a time crunch. They might not even want to start a new job until after the first of the year, especially if it entails a physical move, but they will appreciate knowing they've landed a new position. Looking forward to this next career move could make their celebration season even sweeter.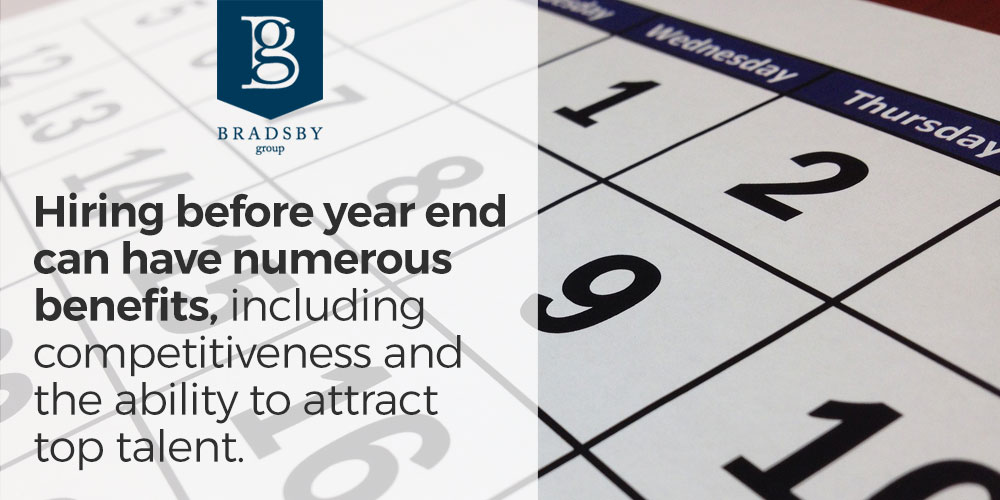 Snooze, and you lose
As you are no doubt aware, the job market is tight for employers. Because unemployment is currently so low, top talent has no reason to wait for you to get around to interviews after the eggnog is gone and you get back from Florida. Another business — maybe one of your competitors — could very well be ready to snatch up that great candidate right now.
Candidates may be more available
Candidates may be more available for interview if they're currently employed, a point made by Unmanned Power, recruiting specialists for the robotics industry. We all know people have lots of reasons to be in and out of their offices around this time of year. The candidate may find it easier to slip away without having to explain why. "Between holiday parties and absentee co-workers, as well as a slow-down in the typical work load, they are simply less likely to be missed," according to the Unmanned Power blog.
Introduce new team members at the office holiday party

It is a good opportunity for them to begin to get acquainted with people they will be working alongside and to experience firsthand another side of your corporate culture.
What key positions do you need filled sooner rather than later?
Are you considering hiring before the end of the year? Give us a call in our Denver or Houston office and let's talk about your strategy. We'll get right on it!