Update your LinkedIn profile frequently: 5 tips to get noticed by recruiters & hiring managers
When was the last time you invested time to update your LinkedIn profile? Do you open LinkedIn regularly to connect with colleagues and leaders in your field? If you aren't staying current and active on LinkedIn, you are missing out on leveraging a highly effective career tool.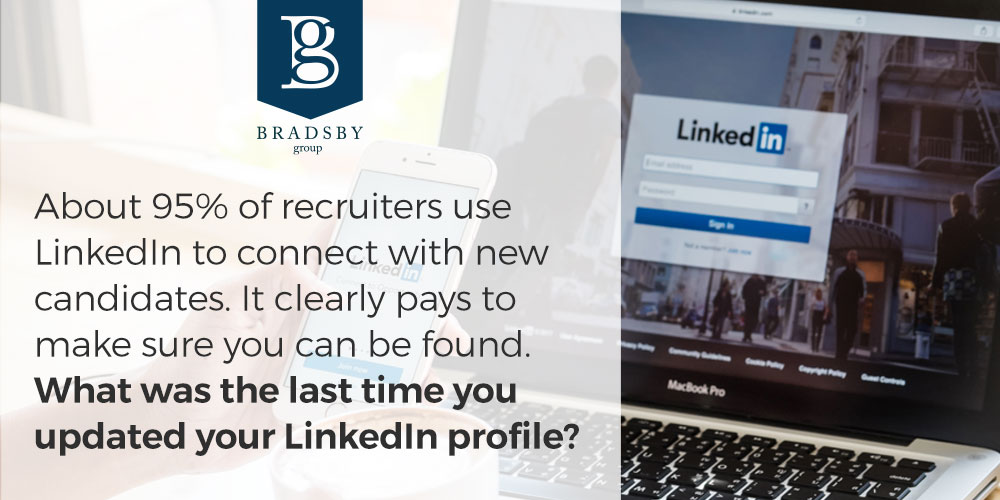 "Today, about 95 percent of recruiters utilize LinkedIn as a major sourcing tool to find candidates to present to their client companies seeking top-tier talent," writes Arnie Fertig for U.S. News and World Report. Additionally, 70 percent of employers will check a candidate's LinkedIn profile as part of the hiring process. It's important to Google, too; when prospective employers Google your name – and they will – your LinkedIn profile will likely appear on the first page of search results.
It clearly pays to make sure that what recruiters and employers find presents you in the best light possible. Beyond making sure you post your most current accomplishments, take these five steps to leverage LinkedIn to its fullest.
5 steps to update your LinkedIn profile
Communicate your personal brand.
Your LinkedIn headline should let others know who you are rather than just your current job title. Similar to the subject line of an email, your headline will be the first thing a potential employer will see on your profile. It needs to be clear and draw them to want to learn more about you. Think about the first thing an employer might seek in a new hire. Throughout your profile, show your personality in a professional way and avoid dry, bland and jargon-filled writing.
Include keywords.
Recruiters use keywords heavily to determine which candidates to examine first. Job seekers can get insights into what those might be by looking at job descriptions for the types of positions they seek. With that list in hand, start building keywords into your summary and other parts of your profile. Also make sure to include close variations of keywords relevant to your profession. Just as in website SEO, flooding your profile with keywords to the detriment of quality content will backfire.
List specific accomplishments.
Instead of simply listing your work history, include measurable accomplishments you achieved with each organization. Specific metrics will help a potential employer envision the value you would bring to their team. By quantifying your accomplishments in terms relevant to your profession, you provide meaningful context that will help you stand out from the crowd.
Grow connections meaningfully.
We all know how critical a robust network is to career development. As a professional networking platform, building a network is the whole purpose of LinkedIn. Requesting connections and accepting them when it makes sense will expand your visibility and help you reach additional people. According to one LinkedIn help article, members can have a maximum of 30,000 first-degree connections. But just because you are allowed such a large number of connections does not mean you need thousands of them — be mindful that your connections are meaningful and legitimate. Keep your posts professional and relevant to business and to your industry. Save non-professional posts for other social media platforms.
Join industry groups.
Hiring managers and recruiters within specific industries will often look at related groups on LinkedIn for individuals who participate in meaningful ways. Joining a few groups will also open additional networking opportunities for you. Resolve to engage with comments or questions that demonstrate your interest and connection to the industry. Additionally, LinkedIn groups can become a resource for you to stay current on industry news and trends.
Looking for a career change? Let's talk!
These five tips will take you well on your way to updating your LinkedIn profile so that potential employers can find you and advance your career. But LinkedIn is not the only tool at your disposal. Bradsby Group partners with industry leaders who are looking for top-tier talent. Submit your resume today to be considered.