How long should you wait to hear from a recruiter?
Waiting is hard. We don't like to wait in rush-hour traffic or for the arrival of a late flight or for the start of a vacation. Waiting has inspired songs about longing and plays about patience. It's also an unpleasant part of the job search. At one time or another we have all asked this question: How long should you wait to hear from a recruiter after submitting a résumé or having an interview?
Anxiety abounds when you're making a career transition. And waiting to hear back from the recruiter or hiring manager only intensifies the unease. You wonder: Did you make a good impression? Will they want you?
How long should you wait to hear from a recruiter after sending a resume?
Recently over 300 HR professionals were surveyed on this question. According to results reported in an article by Courtney Connley for CNBC, the most prevalent answer, given by 36 percent, was one to two weeks.
Follow up quicker than that, and you risk coming across as lacking patience and not respecting the hiring process set up by the prospective employer. Wait longer than that, and it could look like you lack enthusiasm or attention to follow through, which could reflect negatively on your desirability as a candidate.
Survey responders all agreed that some kind of follow up by the job seeker is critical to getting a résumé seen when those involved in staffing receive so many. Compose a tactful email with a subject line to catch positive attention. For instance, if someone referred you for the job, include their name and the position you want in the subject line. "Drop names/locations and make the connection right away," says email expert Danny Rubin in the CNBC article.
If your first email gets no response, it's generally okay to send a second one. But stop there. If you still don't hear anything back, let it go. Their lack of response may feel rude, and yes, respect should go both ways. Yet you're better off to accept that as their way of saying, "Don't call us, we'll call you" and move on rather than try to change it.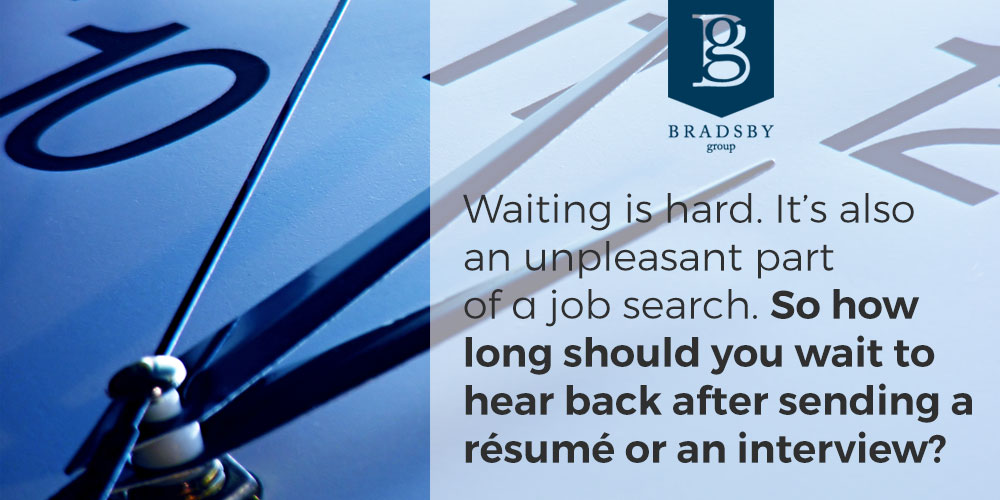 How long to wait to follow up after an interview
Recruiters can take anywhere from a few hours to a few weeks to make a decision after your interview, for valid reasons.
If you've sent a thank you note or email after the interview and now it's been another week, no need to contact them again, yet. In fact, to do so would probably come across as pushy. Generally speaking, it's good to remember that it feels more urgent to you, the job seeker, than it does to them.
After ten days to two weeks if you have not heard anything, yes, follow up once using a tone that shows interest but not desperation. "Think of it as a first date," suggests Miranda Kalinowski, vice president of global recruiting at Facebook, as reported in an article by Lydia Dishman for Fast Company. She advises wording your message to focus on "continuing our conversation" rather than pressing for a decision.
Continue your job search in the meantime
Whether you're at the résumé-submission or interview stage of your search, whatever you do, don't pause your own process. Keep making contacts with other potential employers while you wait for a response.
Here at Bradsby Group, we understand both the needs of job candidates and those of our business clients. Our goal is to facilitate a process that provides a positive and timely experience for both. Do you have questions about what such a process might look like? Our team members will welcome that conversation with you. Reach out today.