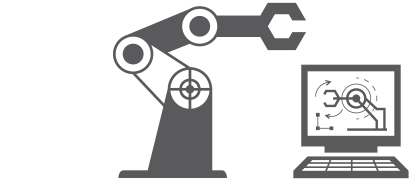 Industrial automation recruiters with national reach
In a world where automation touches every industry, deep expertise and a high level of EQ are necessary to stay ahead of the robots. Bradsby Group's team of industrial automation recruiters provides executive search services and best-in-class talent to this emerging category.
The Bradsby Group advantage — work with the top industrial automation recruiters
Our team of industrial automation recruiters partners with industry leading companies across the U.S., primarily small to midsize firms, including several Emerson Impact Partners to provide talent at all levels.
Not only does our Energy & Industrials team have highly specialized, extensive experience in the industrial automation, controls, and robotics sector, but we have the horsepower to move quickly and deliver exceptional results. Our unmatched depth and networks in the automation, controls, and robotics sector lead to impressive candidate matches.
Based on our thorough understanding of this field, we specialize in placing high-impact leaders into the following roles:
C-suite
Management
Sales leaders
Technical sales engineers
High-level business development executives
Engineers
Programmers
System integrators
Installation engineers
Industrial automation recruiters for a wide range of industries and disciplines across the U.S.
The companies we partner with are looking for talented team members with knowledge of and experience in the following areas:
Process control: Systems such as DCS, PCS, HMI, and SCADA; measurement and sensors; motion control; and tracking, warehousing, and asset management
Robotics: Warehousing, manufacturing, autonomous mobile, drones, and medical
System design and engineering: Custom solution design, product solutions, and assembly
Software: asset tracking, optimization, controls interface, mobile and remote monitoring, SaaS, IoT, and data management
Machine learning and artificial intelligence
Environmental control
Service, installation, and monitoring
Find the next member of your automation, controls, or robotics team
Looking to hire? Get in touch with our industrial automation recruiting practice today.
If you are an exceptional candidate in the field of automation, controls, or robotics, we would love to speak to you. Visit our jobs page to view open positions and send your resume to our team.