If you are applying for a job online, you are dealing with an applicant tracking system (ATS). Before your resume is ever considered by a human, it must get past the ATS, which is a technology tool that helps recruiters, human resources pros, and hiring managers focus on the best candidates out of the hundreds of resumes they receive. Think of an applicant tracking system as a digital gatekeeper or filter. According to Jobscan, 98 percent of Fortune 500 companies and a growing number of small-to-mid-sized companies use them. Executive search firms like Bradsby Group also use an ATS.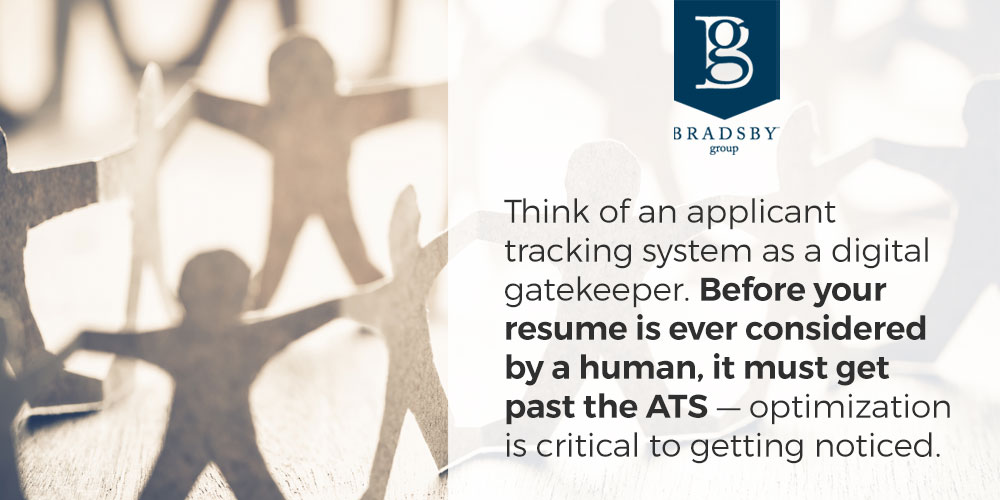 Optimizing your resume for applicant tracking systems is similar in some ways to search engine optimization (SEO) for your job search. An ATS works on algorithms like a search engine. It scans resumes and applications for keyword phrases to prioritize which candidates will most likely be the best match for a specific job. Keywords are chosen by employers and are quite often drawn from language in the job description.
3 tips to optimize your resume for an applicant tracking system
You can't get inside a hiring manager's mind, but carefully studying the job description can give you valuable intel on the language you should include on your resume.
Incorporate keywords
Start with the job title. If you've held the same position at a previous employer, include that phrase in your work history. Then consider terms used in the description of the job you are applying for, specifically related to required experience or competencies. When they fit you, incorporate the same wording in your resume. This isn't the time for variants or creativity; use the exact words.
For this reason, it is critical that you approach each application individually. Even if the roles are similar, employers may frame their keywords differently. Be sure to tailor your resume accordingly, instead of sending out a boilerplate version of your resume to all. Yes, it will take a bit more time, but your chances of success will increase.
For additional insights into commonly used ATS keywords, investigate LinkedIn profiles of people in similar roles.
One caution: Just as in SEO, keyword stuffing—over-using keywords to manipulate the algorithms—is a bad idea. Even if doing so would get you past the applicant tracking system, your lack of authentic quality as a job candidate will quickly become obvious and could get you blacklisted from that company and others.
Knowledge of current ATS systems is one reason for candidates to consider using a professional resume writer. For more information on making that decision, see our previous blog post on hiring a resume writer.
Use standard formatting
Applicant tracking systems don't like resumes that vary from the ordinary too much. Follow these tips to maximize your chances for success.
Choose a common resume font such as Arial, Helvetica, Garamond, or George, says Jobscan's blog. Stick with black print.
Left justify and set one-inch margins.
Don't use columns or tables.
Avoid headers and footers.
Give your sections straightforward names. For instance, "Work Experience" is preferable to "Where I've Been."
Be consistent in how you state your work history and dates. Use the name of the month rather than expressing dates in all numerals.
Functional resumes without dates might not score as well with newer systems, says Columbia University's Center for Career Education.
Don't use an acronym unless you have previously used the complete name. For instance, write out Master of Business Administration the first time; you can use MBA thereafter.
Follow instructions meticulously
If the instructions ask for your resume in a Word document, don't send them a PDF and think it will be okay. If they ask you to include the last five jobs held, don't give them four or six. Make sure you attach all the documents they ask for. Always proofread.
Bonus tip: Reach out Bradsby Group
Because of the trusted relationship we have with our recruiting partners, working with Bradsby Group to find your next career move is another great way to position yourself favorably with potential employers. We are in touch daily with hiring managers all over the nation who are looking for top talent leaders to fill their staffing needs. Check our listings and send us your resume, and let's see where you can go.