The average hiring manager sees 250 applications for each corporate job opening, according to a 2013 survey reported by HuffPost – and that number might be even higher now! A quality resume speaks of a quality candidate. If your resume doesn't communicate "quality" in the first few seconds, your chances of getting an interview are much slimmer. For this reason, many people turn to a professional resume writer.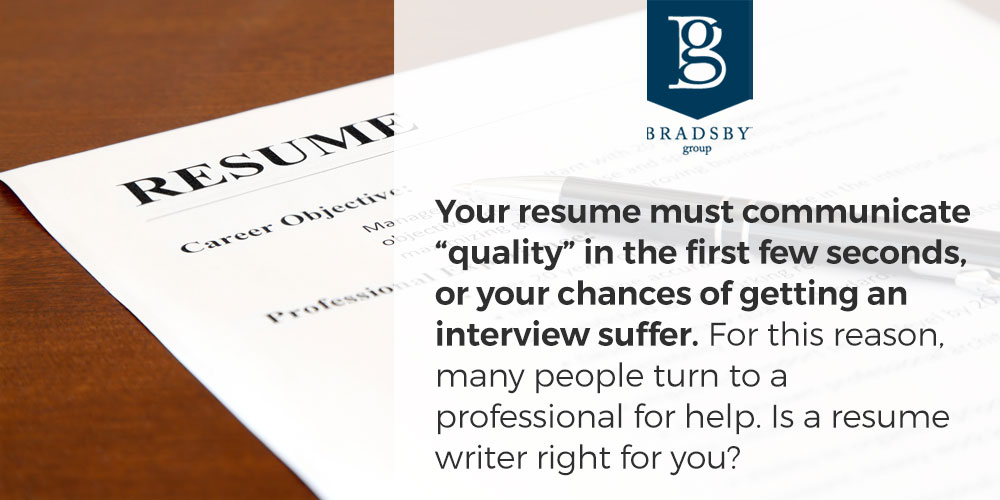 Should you hire a resume writer?
The resume is just one component of your job-search toolbox, but it is an essential one. Can you create one yourself that will gain the attention of hiring managers? Or should you hire a resume writer? There is no one right answer for everyone. Your responses to these questions can help you decide.
Do you write well?
If not, hire someone to write your resume. If you're a fluid, clear writer, you have a chance at creating an acceptable resume. Sloppy writing – even one error — will put you out of the running at first glance. However, writing talent alone doesn't produce a winning resume. Read on…
Will the job entail lots of writing?
Don't hire a resume writer to convince a hiring manager that your skills are top rate if they aren't. Eventually, you will have to write something on your own, even an email, and it will become evident that you are not their best choice. If, however, you are applying for a job that focuses on numbers or technology, for instance, a professionally produced resume can give you an advantage without misrepresenting the skills that qualify you for the role.
Do you know what hiring managers expect in resumes?
You can state lots of good things about yourself, but choosing the right things to say and saying them in ways that are meaningful to the potential employer can be tricky. Plus, an applicant tracking system, or ATS, will likely get a crack at filtering resumes before a human ever looks at them. Do you know how to write your resume to appeal to its algorithms? Professional resume writers stay up on hiring process trends and technology. If you let them do their magic, you don't have to invest a lot of effort into research, and still perhaps not be sure you're hitting the mark.
Can you boast about yourself?
Your resume is a marketing tool for yourself. Don't be shy about promoting your own skills and accomplishments and spelling out how you were an asset to previous employers. A professional resume writer can be valuable because they will ask you the right questions and translate the information you provide about your work history into a resume that presents you as the best candidate.
Do you have complicated history to account for?
What about that period of unemployment, or the disruption of an illness, or the time you were let go? If you are confident you can explain those gaps or negative circumstances, great. If not, a professional resume writer will help you frame them more positively.
Are you getting interviews?
If you are getting the interviews you want with the resume you created, it's serving you well. But if you're not getting those calls, it might be a sign to consider getting a professional makeover of your resume.
Can you afford it?
An internet search will reveal a range of price points for resume writers. the low end will mostly consist of templates and resume mills. These are generally not worth the money because you won't stand out to hiring managers; defeating the whole purpose of creating a resume that that shows why you should be hired over someone else.
If you're going to hire a resume writer, consider it an investment in your future. Find one who is certified in the specific skill of resume writing. Consider asking for references or success testimonials. It will cost more because they will spend the time to get to know you and research how best to present you for the industry, or even the employer you are focusing on. If it helps land you your dream job, you'll be glad you did!
Given your situation and goals, you may or may not decide to hire a resume writer. Answering these questions will help you choose wisely.
After working with a resume writer, don't forget to contact Bradsby Group
Another professional to consider calling is a recruiter. Just as resume writers are current on hiring practices, Bradsby recruiters are experts on trends in hiring needs in the industries we work with. Plus, we have deep networks within leading companies and years of experience placing candidates. Send us your resume and let's get started finding the next step to a career in which you can thrive.