An eternity can pass between the job interview and finding out whether you landed the job — at least that's what it often feels like to candidates. Hiring managers, on the other hand, have a lot going on during those weeks, but they are wise to be just as tuned in as candidates to how to follow up after an interview.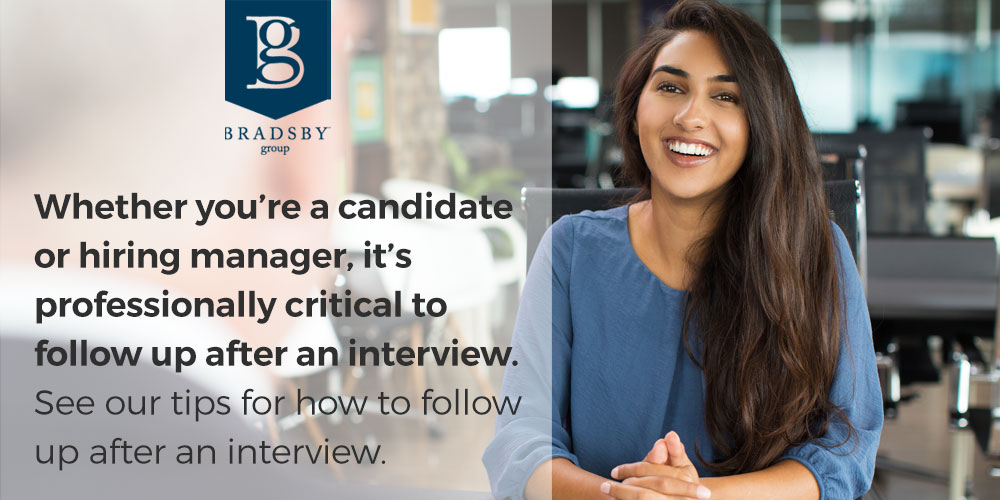 When candidates follow up well, they can gain an edge over other applicants regarding business etiquette, communication and interpersonal relationship skills.
When employers follow up well, they reinforce a positive corporate brand that values open communication and respect.
5 tips for candidates: how to follow up after an interview
If you're a candidate, there are the obvious tips for how to follow up after an interview, as well as some things you may not have considered…
Email immediate thanks
You probably already knew this one. Within 24 hours, send an interview thank you email to each person who interviewed you. If you need an address, check the company website, or pick up your phone to call and ask the receptionist. What to include:
Remind them when you met and use your full name.
Thank them for their time and the opportunity to interview.
Reference something specific to your interview or their focus as an organization.
Add anything pertinent that needs clarification or did not get mentioned in the interview.
Say again briefly why you are an excellent choice for the job, with grace and enthusiasm.
And always proofread before you hit send.
Beyond the email, follow these tips for the post-interview interlude.
Plan to be patient
"At the end of an interview cycle, it is perfectly reasonable for a candidate to ask when they might expect a response from the employer," says Steve Kane, HR expert quoted in a Forbes article. "That sets up a perfect opportunity to follow up with the employer if feedback is delayed much beyond the date given." Stay courteous, rather than demanding, and simply ask if they have an update yet. Also, it's appropriate to offer to provide more information or answer any questions they might have.
If that email doesn't generate a response, you might try one more, but then you can probably assume they are no longer considering you.
Revisit your voicemail greeting
Is your voicemail greeting as professional as you want it to be? Re-record if you need it to sound more like the kind of person any employer would want to represent them on the phone.
Evaluate the interview
Every interview should educate you about yourself and the employer. What did you do well, and what could you improve next time? What insight did you gain into the job that might not have been included in the job description? Are your values in sync with the ones you saw demonstrated during the interview? Whether you get the job or not, this information will serve you well moving forward.
Keep looking
Even if the interview went well, you aren't guaranteed the job. Keep your job search active by searching, networking, applying, and working with a recruiter. You are under no obligation to tell other potential employers you are waiting to hear back from another. In fact, it is bad form to try to attempt to make yourself look more desirable by sharing that information and pitting them against each other.
5 tips for employers for how to follow up after an interview
It might take a bit of extra effort to update a candidate prior to your decision, but don't leave them hanging. Every step of your hiring process and how you follow up after an interview either contributes to or takes away from your brand as an employer.
Your open communication and interview etiquette show respect and leave a good taste of what it will be like to work for you. As Tim Cannon says in his Fast Company article on communication with job candidates, most "employees would rather join a company that values open communication than one that offers perks like free food and gym memberships."
Use more than email
Email is great, but sometimes a text with a quick update or question is a better way of reaching someone. Younger workers especially are less reliant on email. A phone call is best when the news is good – for instance, if you're ready to make an offer – or if you have significant questions to ask or new information to share.
Create follow-up steps
Depending on how many applicants you are interviewing and your decision process, consider planning periodic quick contacts to let those you have interviewed know they haven't been forgotten. Many software solutions in use allow you to create templates and automate those actions.
Be human
Even if you do automate some messages, do whatever you can to maintain the personal touch. Your candidates want to be valued and related to as people. Listen as well as push out information. You are going to hire one of these people, and your post-interview communication with them is giving them a preview of the onboarding experience.
Offer feedback
Interviewees often welcome insights into how their strengths were perceived and how they can improve for next time. Sharing specific constructive feedback, especially as it relates to the job at hand, demonstrates respect.
Don't delay disappointing news
When candidates are not chosen, let them know. It closes the loop for them and, when combined with constructive feedback, helps them move on with confidence.
Reach out to us before the interview
Since 2004, Bradsby Group has cemented its position as one of the nation's premier executive recruiters. Since then, we have successfully placed candidates into over 10,200 key positions for our clients nationwide, with a retention rate of 91 percent. Whether your need is to find an all-star or make your next career move, we can help. Contact us today.