Working from home sounds like a sweet deal. It has many advantages, to be sure. But it can come with a sneaky side of extra stress. Too much stress for too long leads to employee burnout, which is a problem for mental health and productivity.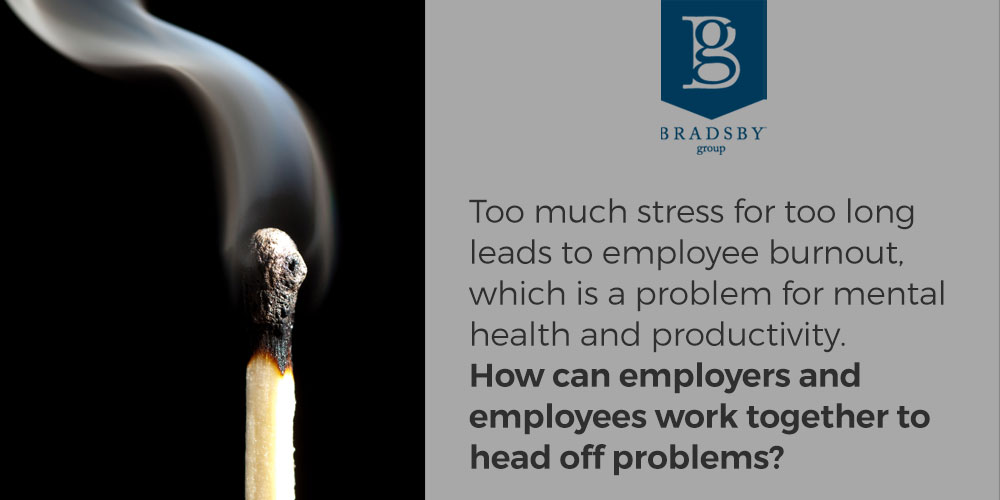 It's one thing when people choose to work from home and arrange their lives accordingly. It's another entirely when they haven't desired or prepared for it. The health and safety necessities during the COVID-19 pandemic have thrust many into a new scenario that is immensely complicated. The added risk for employee burnout is "substantial," according to an article by Laura M. Giurge and Vanessa K. Bohns for Harvard Business Review. They write, "The lines between work and non-work are blurring in new and unusual ways, and many employees who are working remotely for the first time are likely to struggle to preserve healthy boundaries between their professional and personal lives."
How can employers and employees work together to head off problems?
Preventing employee burnout: tips for employers
Keep in mind that all parts of your staff's lives have been disrupted. The mental and emotional energy drain on them and their families is real..
Start from the assumption that employees are working with professionalism and take pride in their work. Communicate the expectation that work continues to be completed at the same level as before, and that deadlines and productivity metrics are met.
Hopefully, you have already established a foundation of trust, from which you can problem-solve and adapt together. "The key is to set up processes that will keep employees operating from a place of faith, rather than fear, even though they're working in a new environment," says CEO and business coach Bill Walsh.
Here are a few suggestions for what employers can do to prevent employee burnout and motivate work-from-home teams.
Track performance, not time.
Working from home with young children makes it extremely challenging to work solidly through previously regular office hours. Walsh recommends choosing a weekly theme such as "customer outreach," with related daily KPIs – key performance indicators – such as how many calls are made. Let employees flex their time to fit their household rhythms. After all, isn't the point right now what gets done, and that it gets done timely as if it were the same working in the office under normal conditions?
Encourage breaks.
Be as clear about the expectation of offline time as you are about the times of day when you expect prompt, ready responses. It will communicate something important if you lead the way, doing it yourself and expressing your respect for their boundaries, as well as the need for your own. Walsh encourages "employees to shut down for regular breaks and even take a walk outside. Getting away from the computer screen allows a new sense of light and energy into our minds, which can become a game changer for idea generation and work productivity."
Also, consider allowing at least five minutes between video meetings, recommends Rich Barton, founder of Zillow, in this Inc. article. People need a chance to transition their thoughts and grab some water or use the restroom.
Avoiding employee burnout: tips for employees
Employees working from home can also take steps to lessen their own stress levels and ward off burnout, while maintaining the utmost professionalism.
Schedule your day.
As much as possible, have a regular start and stop time. Communicate this to those you live with as you work together for the benefit of all. Reserve your most uninterrupted periods for tasks that take the most thought. Designated productive time will also make it easier for you to not feel like you must be constantly "on" to compensate for perceived scattered productivity. You need non-work time for your mental health, though you still have a reputation to uphold so be careful to not take advantage of the situation.
Create physical and mental boundaries.
Doing what you can to maintain your own boundaries is at the top of the list, according to Giurge and Bohn. "Putting on your work clothes, commuting from home to work — these are physical and social indicators that something has changed. You've transitioned from 'home you' to 'work you,'" they explain. "Both of those things are boundary-crossing activities that can do you good, so don't abandon them altogether."
In other words, it's not a good idea to work in pajamas. Dressing in some semblance of work clothes can signal to yourself that it's time to get down to business. Some people have been known to go out, walk around the block, and re-enter their home as if "going to work." Find the physical and mental signals that work best for you.
Practice self-care.
You know the drill. Get enough sleep. Don't work with a bag of chips at your elbow. Move around, preferably outdoors. Breathe. Talk to yourself with as much encouragement as you would give your best friend. Be intentional about doing one positive activity every day.
Ask for help.
Don't wait until you've lost all motivation or are feeling overwhelmed before you talk with your supervisor about it. Communicate to them that you want to work effectively, be prepared with some ideas for solutions (a.k.a. don't only present a problem without a solution), and listen to suggestions they might offer. You might also talk with your peers, inviting others to share how they are managing the challenges of keeping motivated and avoiding employee burnout.
And don't forget your family. It might be time to shift some household responsibilities.
It takes two…
With many companies downsizing in 2020, individual and team performance will be critical. Whether working from home is temporary or ongoing, staying motivated, productive, and on top of employee burnout takes intentionality and collaboration from both employers and employees. The success and sustainability of your team is worth the effort.
As a leading recruiting partner, we want to help build strong teams. Let us know how we can help. Looking for all-star talent? Contact us today to discuss your staffing strategy.
Hoping to launch the next step in your career path? Send us your resume and let us help find a match where your talents will shine.