It's wise to assume that a potential employer will check out a candidate's LinkedIn profile. Is yours ready to impress? The LinkedIn profile is a key piece of professional branding. It's one of the first things that rises to the top when someone Googles you, says Jasmine Sandler, digital marketing advisor and social media keynote speaker. It will enhance your professional identity or detract from it. The choice is yours. To avoid blunders, follow these LinkedIn profile tips.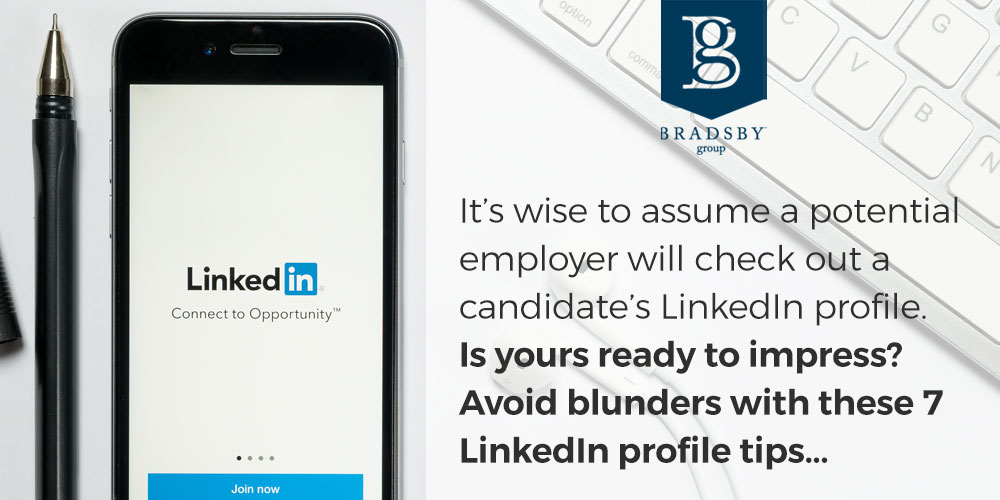 7 LinkedIn profile tips
The following LinkedIn profile tips will help you to stand out in a sea of professionals and strengthen your professional brand.
Don't use a vacation photo
Your face needs to help visitors to your profile imagine you doing the work you want to be hired for. Be sure it shows you dressed appropriately. LinkedIn is not a dating site, so it is not the place for a photo of you on the beach or at the bar. Use a professional-looking head shot. Choose or clip one so that your face takes up about 60 percent of the space, advises Jane Fleming of LinkedIn.
Don't just put your job title in the heading
This is the line that will show up with your name in searches. Make it work for you. Think of it as the subject line: its purpose is to interest readers enough to click open your profile and read more. "Use the headline field to say a bit more about how you see your role, why you do, and what makes you tick," says Fleming. Of course, you will also want to make it applicable to the type of role you are seeking. Then, edit it down to about 120 characters. This may take some time, but it is worth the effort. Make every word count.
Don't get political or religious
Your summary needs to tell your story, but it isn't an opinion blog. If you go into what many consider divisive territory, you will muddy the water and likely turn off at least half of possible employers. The only exception might be if you are truly focused on finding work solely in a specific type of political or religious organization.
Also, avoid posting updates that are political or religious in nature, unless that is what you do for a living. Think of it like a virtual water cooler — avoid these topics the same way you would in the physical office.
Don't load up on buzzwords
Buzzwords are a sure way to appear uninteresting and inauthentic to readers. It also demonstrates a lack of creativity and clarity in written communication, which is one of the top skills employers seek. LinkedIn compiles a list of the most over-used buzzwords. "I'm not saying you can't describe yourself as these things – or that they don't matter," writes Fleming. "However, just using these words won't convince people that you have these qualities." Use them sparingly, and back up the ones you do use with evidence in the other features of your profile.
Don't bash anyone
Airing grievances about a former employer, partner, colleague, or anyone else is not a good look when you are seeking the next step on your career development, whether in an interview or your LinkedIn profile.  You will quickly be eliminated from consideration.
Don't include anything you don't have permission to use
LinkedIn profiles can be strengthened by including images, documents, video, and other types of collateral that showcase experiences and benefits delivered to a past or present employer. This cannot, however, include anything proprietary to that organization. How can a potential employer see you as trustworthy if you are sharing inappropriately?
Don't post your first draft
Your summary, like your resume, needs to be free of errors. This isn't off-the-cuff social media. Recruiters and employers like to see attention to detail, not sloppiness. Professionalism requires that you do whatever it takes to catch and eliminate spelling, punctuation, grammatical, and usage errors. Write in Microsoft Word first so you can use the editor function as a final step before copying and pasting into LinkedIn.
Have someone else read it over. Apps such as Grammarly will act like an editor no matter where on the web you are writing. It's worth looking into if you are not already using one.
Bonus tip: Avoid the humble brag
A list of LinkedIn profile tips would not be complete without taking a moment to acknowledge the humble brag. If you're not familiar with this term, the humble brag happens when one uses self-deprecating humor to boast about an accomplishment.
We've all seen it happen at least once in our LinkedIn news feed, whereby a colleague shares an accomplishment, and then sprinkles in a little "oh, woe is me" statement about how tough it is to be them. The problem? Your colleagues don't like it. It's disingenuous and it can damage your reputation.
Going beyond LinkedIn profile tips…
Your LinkedIn profile is critical to your job search success, but it's just the first step. It will not serve you as well as it could unless you also use the other features and functions of LinkedIn intelligently and intentionally.
A recruiter who specializes in the industry in which you hope to work will also be key to finding the new career you want. If you are interested in one of the sectors we serve, check out the job listings on our site and send us your resume today.