Mentoring is nothing new. It has been around since the legendary Greek hero Odysseus left his servant Mentor in charge of training his son while he went off to fight the Trojans. Today, mentorship programs are common in all types of fields, including business.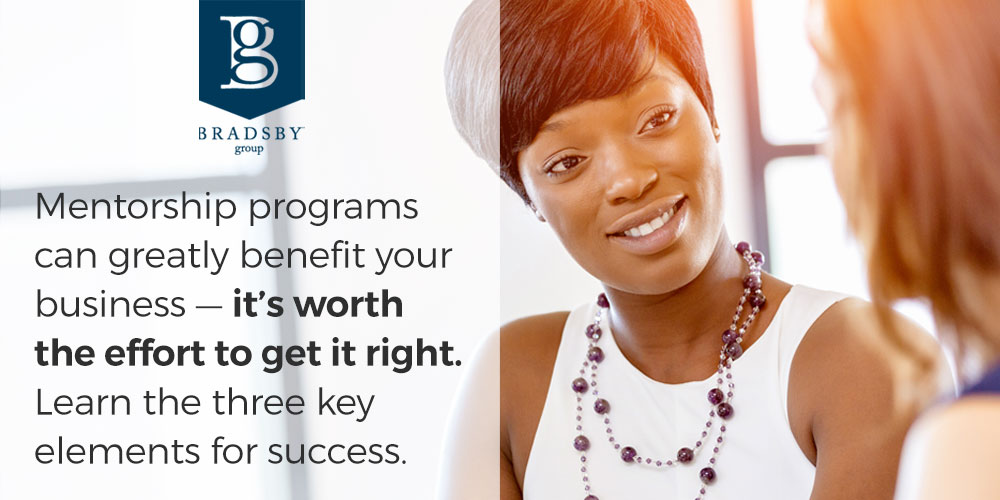 Basically, mentorship is an ongoing relationship in which one person influences the professional and personal growth of another. It can be a formal mentorship program, or it can happen informally. Often in organizational settings, a more skilled person mentors someone with less experience. Other times it is two-way, with no consideration for seniority. Both formats are valuable when done wisely. It is worth the effort to get it right.
3-way benefits of mentorship programs
To mentees and the company: It is assumed that being mentored is good for the development of the mentee, and it is, when it is done well. But it also has a documented positive impact on the employer. "Organizations that embrace mentoring are rewarded with higher levels of employee engagement, retention, and knowledge sharing," writes organizational and leadership development consultant Mary Abbajay for Forbes. "In fact, mentoring has proved so beneficial that 71% of Fortune 500 companies offer mentoring programs to their employees."
To mentors: Mentors receive benefit as well. It is short-sighted to think of mentoring as developing leadership skills solely in mentees, since mentors will be the ones getting the hands-on practice. Additionally, the experience increases their job satisfaction and gives them a greater feeling of fulfillment because they are contributing to the success of a colleague, as well as the organization.
3 keys to well-done mentorship programs
Successful mentorship programs rely on three key elements.
Put relationship first
Even with the best intentions, you can't force mentoring to work. The best mentors realize that the relationship comes first, before skills development. It can't be just another thing to do on a checklist of steps for employee development, says Anthony K. Tjan, author and CEO of venture capital firm Cue Ball. In his Harvard Business Review "article, "What the Best Mentors Do," he writes, "For real mentorship to succeed, there needs to be a baseline chemistry between a mentor and a mentee. Studies show that even the best-designed mentorship programs are no substitute for a genuine, intercollegial relationship between mentor and mentee."
Start much the same as you would to get to know a new friend. It might take some time, but it is well worth it. Skills are part of the development goals, but mentoring is so much more than training. "The best leaders go beyond competency, focusing on helping to shape other people's character, values, self-awareness, empathy, and capacity for respect," says Tjan.
Choose participants wisely
Almost everyone can be a mentor in the sense that others can learn from our skills and experience. However, persons who have little desire to develop others, are not good listeners, or are not teachable themselves are not well suited for the role.
On the other side of the equation, employees may not always be ready to be mentored. If they aren't and a manager pressures them to work with a mentor, the time and energy put into it will be fruitless.
Make it mutual
Much good can come from mutual mentorship, in which both parties are leaders as well as learners, each leading from their strengths, with no hierarchy in play. This reciprocal relationship removes limitations on how many people can benefit from a mentor because everyone becomes one. It also nurtures the value of remaining teachable and can foster an appreciation of diversity when mentoring crosses the divides of generations, gender, age, and other differences.
Who do you need to add to your team?
When you hire new talent, it makes sense to look for someone with a teachable spirit who may also become a valuable mentor to others on your team. We have the experience and connections to help you recruit the best. Contact us today to tell us who you are looking for, and let's get started!