Businesses across the board have found it necessary to adapt their processes due to the coronavirus stay-at-home orders. More people than ever are working from home and meeting virtually. Furthermore, businesses that have traditionally conducted the hiring process in person are now taking a second look at remote recruiting.
Unfortunately, many businesses have had to decrease their workforces, and uncertainty is causing some to proceed with caution. Yet others, while needing to adjust their staffing strategy, will continue to scout for talent as they strategize for long-term recovery.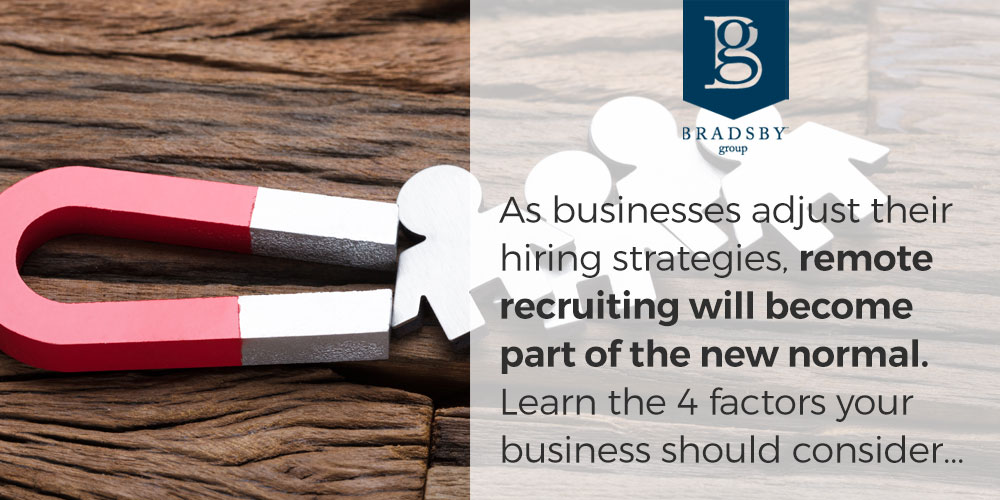 "The current scenario poses an extraordinary challenge for organizations and leaders," says George Varghese, principle researcher for Microsoft Research. "Apart from maintaining business continuity, they also have to ensure the safety and well-being of their employees." Two significant ways to meet this challenge, he says, are utilizing remote technologies and automating processes to assist in filling the candidate pipeline. Varghese and others recommend using specifically designed solutions that incorporate AI and chatbots to create an engaging process for job seekers, while also helping hiring teams prioritize candidates for particular roles.
To be sure, remote recruiting will rely on a robust tech stack. But it also requires enhancing the human side of the equation. You'll need both to ensure your best hires and a candidate journey that will represent your culture well.
4 elements to consider when planning for remote recruiting
Virtual job fairs
"Many organizations during this time of year prioritize recruiting the best and brightest college seniors they can attract during in-person interviews on campus," says, Louis Columbus, Forbes senior contributor. "That's no longer an option today." Columbus goes on to explain some of the software solutions currently available that have been specifically designed to support such virtual events. They hold the potential to scale to reach even more recruits than in-person events, he says.
Virtual interviews
Zoom and other video conferencing platforms can, of course, be used for interviewing. But should they?
Lea Goldman, writing for Fast Company, advises employers to stick to the phone. She reasons that we make assumptions about candidate suitability in seconds based on appearance, and few of us are looking like our best professional selves these days. It might seem like a shallow argument, but let's hear her out. Even if it is not legal to make hiring decisions based on age, ethnicity, or gender, older women and women of color too often do experience this type of discrimination. Goldman's caution is that without access to hairdressers, for instance, those first seconds of a first impression could trigger implicit biases in the interviewers. At the very least, she says, save the video interview for closer to the end of the process.
Note: We've published two previous posts on virtual interviews, with different perspectives. To read them, click these links: Video interviews; Phone interviews
Instructional webinars
Most adults in the job market today expect to be able to search for and easily find instructions online for how to do all kinds of things. Depending on how complex your process is, consider creating brief videos or slide decks with screen shots showing potential candidates what to expect, including how to navigate any platform that might be unfamiliar to them.
The human touch
The personal touch — speaking metaphorically, of course — is an essential element of recruiting remotely. Everyone's stress levels are high due to the pandemic's challenges, so lead with empathy and humanity for the sake of your team, as well as the recruits you'll be contacting. With no face-to-face meetings possible, it will be wise to increase the frequency of phone and email communications to assure that everyone is informed and on the same page every step of the way. Throughout, adopt a tone with candidates that might be a touch less formal than you would take for an in-office interview, while still keeping it professional.
Consider appointing one person on your hiring team to the key role of candidate concierge. This person would handle pre-interview contacts with candidates (and possibly post-interview, too), make sure candidates know what to expect, be the host for the interview, introduce all participants, and wrap up the meeting.
Choose Bradsby Group for a smooth remote recruiting experience
Even in the time of COVID-19, recruiting can lead to matches with strong, talented leaders. Whatever your process is for remote recruiting, the Bradsby Group team can partner with you for a seamless experience. Reach out to us today.