There are many ways an organization can provide employee feedback and develop its people into leaders. Some popular examples include weekly one-on-ones with senior management, weekly department meetings, open door policies, new-hire mentoring, and 360 performance reviews. Of course, not every feedback type will be a good fit for your organization — there can be pros and cons (or your management team may favor one method over another).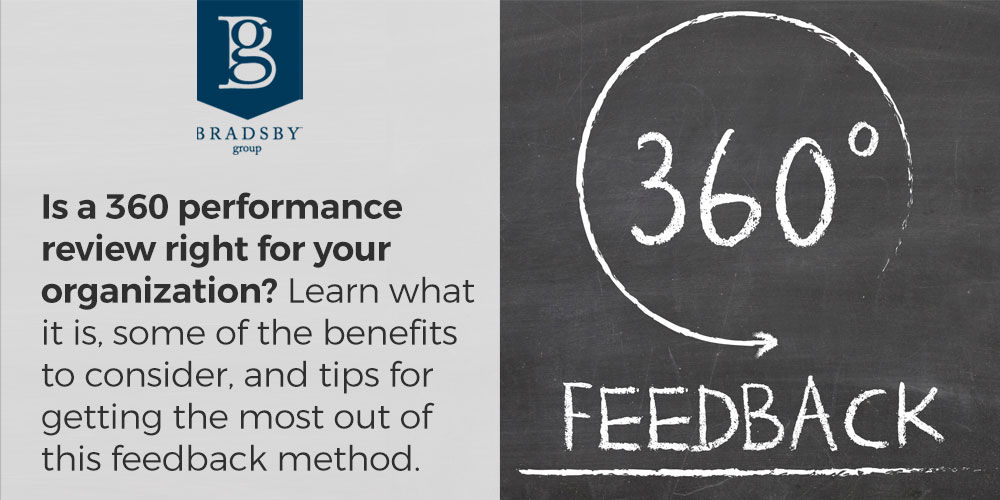 In this blog post, we will discuss the 360 performance review — what it is, some of the benefits to consider, and tips for getting the most out of this specific feedback method.
What is a 360 performance review?
When we want to look our best, we use mirrors to look at ourselves from all sides. A 360 performance review accomplishes the same thing for employees when the shared goal is individual and team development that makes your business and everyone in it shine.
A 360 performance review solicits the perspective of people who interact with the subject of the review in diverse ways. "Think of the employee receiving the 360-degree performance review as standing in the center of a circle," says Laura Handrick of Fit Small Business, with reviewers observing from their own angles.
Susan Heathfield of The Balance Careers distinguishes the forms of review this this way: Traditional "employee appraisals tend to focus on the progress the employee achieved on job goals. The 360 review tends to focus more on how the employee affected the work of other employees."
"More than 85% of all the Fortune 500 companies use the 360 degree feedback process as a cornerstone of their overall leadership development process," says leadership author and Forbes contributor Jack Zenger. He points out that many people are not as aware of their own strengths as they could be simply because those qualities tend to be the things that come easiest to them. One of the main benefits of a 360 performance review, he says, is to create a culture in which positive feedback becomes an instrument that increases such self-awareness.
7 steps to a successful 360 performance review
Beneficial 360-degree reviews take planning. Follow these seven steps to get the most impact.
Get consensus with those to be reviewed
Talk through the opportunity for personal and professional development with everyone. Getting buy-in in advance from those to be reviewed will improve their willingness to learn from the results.
Be consistent and fair
Let's say you manage a team member who you perceive to be lacking in some areas of professional development. Should you suggest that employee go through a 360 performance review by their peers? It might seem like a good idea and a way for the employee to learn how their work impacts the rest of the organization. Be very careful — this strategy can backfire on you.
Employees are very good at sensing when a manager is singling them out compared to their peers in the same department. If you ask a direct report to participate in a 360 performance review, you should be consistent and have their colleagues participate too.
Choose your reviewers
Helpful feedback will require eight to ten reviewers, says Handrick. Draw them from inside and outside your organization and up, down, and across your org chart. Mixing them up is good, but should be intentional. Handrick recommends not only direct supervisors, but also consider key customers and vendors, peers (either in the same department or with the same type of job), direct reports, and cross-functional colleagues if the subject of the review works on projects.
Don't forget office politics, either. Care will need to be taken to guard against weighting the sample with people known to have a positive or negative bias toward the individual.
Train your reviewers
Emphasize that their comments need to be actionable, specific, and constructive. Keep feedback positive, as much as possible, and refrain from personal attacks. "You will need to provide instructions and training to ensure that the reviewers don't use the feedback opportunity as a chance to vent their frustration or provide inappropriate (or even illegal or protected class type) commentary," Handrick cautions. Assure confidentiality so the reviewer will feel safe to share authentically. Let them know whether their answers will be shared with the reviewee verbatim,  or whether results will be paraphrased or summarized.
Choose your 360 performance review method
Online surveys are fairly easy to set up, tabulate, and maintain confidentiality. Plus, they cost less. Survey Monkey has a helpful blog post about 360 reviews, as well as a template and question bank.
HR software providers offer various fee-based tools for gathering feedback. In-person interviews take more time, but will yield more nuance and context.
Open-ended questions are best. Design them to draw out observations about attitudes, values, and behaviors you want to encourage in your corporate culture. Consider asking the subject of the review to suggest a few questions. With well-chosen questions, you might not need more than a few. And that's good, because you'll get better response to a short survey.
Collect, analyze, and share results
Keep in mind that the intent of a 360 performance review is positive, so even when a need for improvement is identified, frame it constructively for the purpose of development. A best practice is to share feedback in person with the subject of the review, if at all possible. If they are located remotely, do so by video.
Review consistently
Because of its value in developing leaders, a 360 performance review program benefits employees at all levels. Decide how often reviews will be conducted and incorporate them into your process. Some organizations do them annually; others make them a standard part of wrapping up projects.
Review your team — and your hiring goals
As you review your recruiting goals, who do you still need to complete your all-star team? We can help you recruit them. Contact us today.