Wouldn't it be nice if all job postings straight up said what the salary will be? Some do, but it's more likely that an employer will require applicants to say what they expect to be paid first. If you are a candidate and haven't done your salary research ahead of time, you might answer with a number that is either too high or too low, either pricing yourself out of the market or leaving money on the table.
Knowing what you're worth as an employee is important preparation for a job search. Doing your own salary research will arm you with confidence.
How to conduct your own salary research
Smart salary research taps into multiple resources. You can start with a few of the online salary guides, but don't stop there.
Check online salary guides
The federal Bureau of Labor Statistics produces an annual Occupational Outlook handbook. It lists salary ranges and other information for over 800 occupations in the U.S. Glassdoor's Know Your Worth tool gives salary information for specific jobs and specific companies. PayScale has a good free search tool; so does Salary.com, plus an option for a personalized salary report for a fee.
Ask colleagues in your industry
The next step is to mine your network for connections in your preferred industry and ask them about current pay scales in your area. People may be uncomfortable discussing their own pay, unless you know them very well. But you can often start an enlightening conversation by asking, "What would you expect someone in this kind of role to be paid?"
"Professional associations and trade groups often do periodic salary surveys they can share with you, and even if they don't, they can often give you general information about what range to expect," advises Alison Green in her Ask a Manager blog. "They may also be able to connect you with others in your field who you might be able to bounce numbers off of."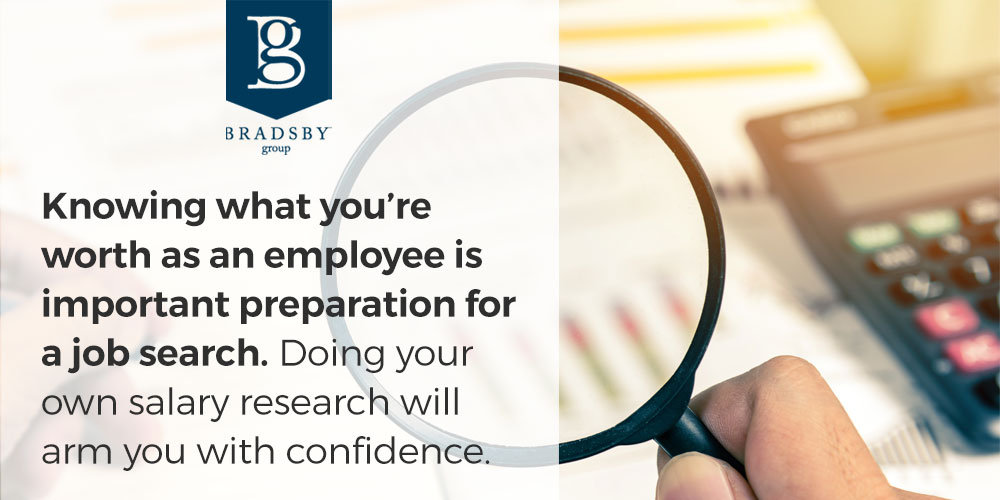 Ask a recruiter
Bradsby Group, for instance, has a good grasp on salaries paid in the industries we partner with. We don't disclose salaries offered by specific companies without their permission, but we can help verify whether your preferred salary range is realistic for the type of position you seek.
Clarify your own value
What benefit do you bring to a potential employer? What kind of return can they expect from their investment in you and your talent? If you can point to an innovation, improved business process, or successful campaign that you were responsible for at your current or previous employer that would translate into benefit for the new one, use it to build the case for your worth if they question your stated range.
Know the salary-influencing variables
Online salary calculators can't consider all the factors that go into salary decisions. It's your job to think through how they apply to you and the job you want. Money Under 30 writer Amy Bergen identifies six factors to keep in mind for salary research:
What is the job title?
What career field is it in?
What part of the country is it in?
How much experience do you have?
How much applicable education do you have?
What special skills do you bring?
Respect yourself and the employer
Keep in mind that in any salary discussion the goal of both parties is to receive value. Maintain an objective and non-adversarial attitude while being your own best advocate. Once you've done your own salary research, you'll be confident in stating a salary range that you expect. It's important to know your bottom line, a number below which you will not go. Remember, too, to factor in benefits as part of the financial package.
Let's get started!
What type of position at what salary range do you have in mind for your next career move? We can help you clarify it and find it. Check our partners' open job listings, submit your resume, and let's get started.