Some time ago we published an article about "ghosting." That's what it's called when job candidates have interviewed well and might even have a job offer, but then they disappear. They don't respond to phone calls or email, or they might not even show up for their first day of work. But what about when ghosting happens in the opposite direction and it's the hiring manager that needs a reminder of interview etiquette?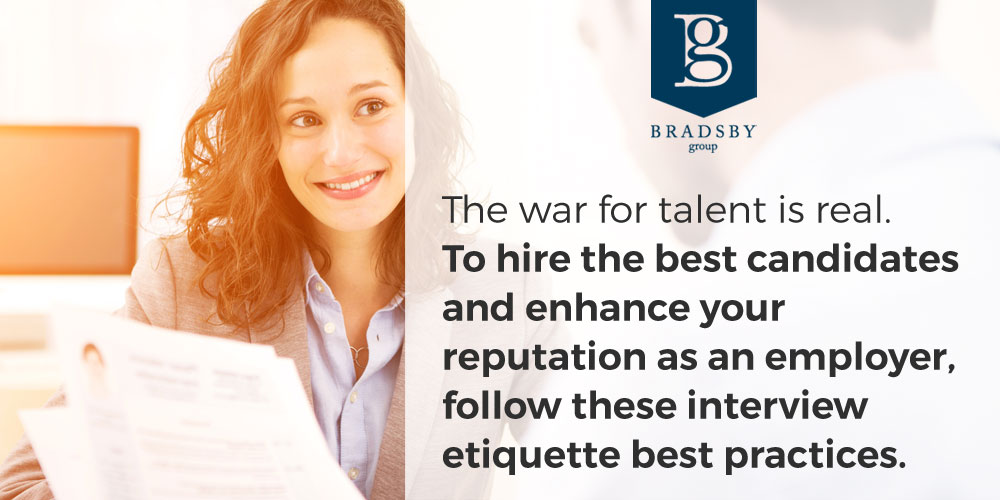 Our website includes a candidate tools page that offers tips on interview etiquette. Today, however, we are going to focus on interview etiquette for employers.
With unemployment at a fifty-year low, hiring managers need to "court" candidates every bit as much as candidates need to make a positive first impression. Although employers are facing stiff competition for the best candidates, only 26 percent of employers report that they measure how well they do at making the interview process a positive one for candidates, according to a Wall Street Journal column by Sue Shellenbarger.
Even if we weren't experiencing full employment, an employer's reputation rests on how well people are treated. Job candidates interpret lack of consideration shown to them during the hiring process as a preview of treatment they can expect if they were to be hired — and they will not keep silent about it. Plus, that kind of reputation can easily translate into turning off your current and potential customers.
Interview etiquette best practices for employers
To hire the best candidates and enhance your reputation as an employer, follow these interview etiquette best practices.
Prepare with respect
Make sure everyone participating in the interview has read the applicant's resume ahead of time.
As a team, go over the plan for the interview before the applicant arrives.
Prepare appropriate questions, not "trick" ones, while staying away from anything that might cross the line into discriminatory territory such as sexism or ageism.
And, says Natalie Morgan writing for Career Plug, don't neglect to tidy up the office, including the interview area. "Hopefully this goes without saying," she writes, "but no candidate is going to work too hard for a job after seeing a filthy office space."
Interview with respect
Generally, the golden rule applies; treat applicants as you would want to be treated.
Dress professionally and be on time.
To minimize distractions, ask that others not interrupt the interview, and silence your phone and any other devices you won't need.
Set the tone as a conversation, rather than an interrogation.
Listen well, rather than focusing on the next question you want to ask. Allow a pause after applicants answer a question to make sure they have said all they want to say. Sometimes more in-depth, less rehearsed answers will come after their initial responses, and by all means, do not interrupt.
Leave time for applicants to ask questions.
Follow up with respect
Job candidates invest their time and energy by providing hiring managers with the information requested, as well as in interviewing. They deserve to know where they stand, so don't be guilty of ghosting them. Granted, it is easier to simply not respond than to have to tell someone "no" when another candidate has been chosen, or if the company has decided not to hire for the role. But "no" is better than not knowing. As Shellenbarger says, "Applicants would rather have closure than be left in limbo."
The best interviewers let applicants know at the end of the interview what communications they can expect going forward. Hiring managers need to make sure they follow through on what they have said they will do, and have a plan in place to respond to any phone or email follow-up inquiries.
With fine-tuned interview etiquette skills and a recruiting partnership with Bradsby Group, your chances of achieving your hiring goals are excellent. Contact us today to share your needs and start the search.