Is finding a new job one of your 2020 goals? Get ready now to stand out in the employment market by updating your resume.
You've gained valuable experience over the past year. Updating your resume  gives you the opportunity to highlight your current value as a candidate for a future employer and showcase your best self.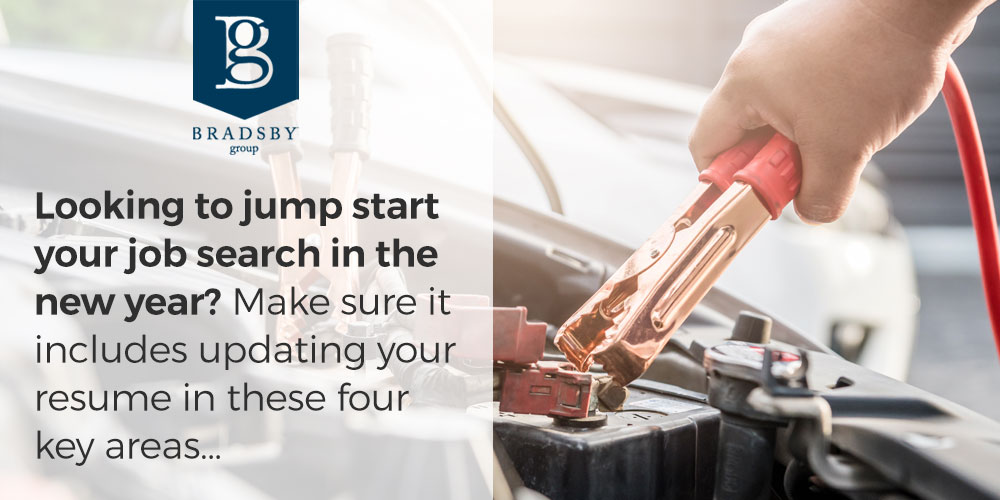 Think of your resume as a marketing tool and remember that it provides a prospective employer with the very first impression of you. It should show just enough of why you are uniquely qualified for the specific job opening and entice the hiring manager to call you for an interview. They will decide if they are interested in calling  you in about six seconds, so choose your inclusions and words. More is not better in this case.
Also, see our earlier article: How many jobs should be on a resume? 3 factors to consider
Answer these 4 questions when updating your resume
Is it focused on what I want to showcase?
Staying focused on your own goals will help you decide what information to include. As you're updating your resume, think of the process as creating a master which you will be able to then customize to make it uniquely relevant to each application you submit.
Will the applicant tracking system (ATS) like it?
Most employers today use some form of software that filters resumes using keywords they've deemed most relevant to that position. "Optimizing your resume keywords isn't as simple as stuffing industry-specific skills and jargon into your resume," says Jon Shields writing for Jobscan. "It's about tweaking the keywords already in your resume to match the job description."
Are all the important resume sections up to date?
Header: Are your phone number and email address current? Do you have a personal, professional website? If so, include the URL. A link to your LinkedIn profile would also be appropriate.
Objective statement: Omit it. Including one makes you look out of date.
Professional summary: Start with this in place of the objective. In one or two sentences, state your unique qualifications for their job. Include a few keywords. Think of this as your 15-second elevator speech.
Experience and qualifications: Choose the top three positions you've held that are most relevant to the work you are seeking. Roll off any that are older than ten years, unless they are extremely relevant. It's okay to help the ATS select you by tweaking your job titles to the language your perspective employer is looking for, says Shields, unless doing so has the effect of giving you a "promotion" that would mislead. Hiring managers need to see your value in numbers, so use metrics to communicate the positive impact of your accomplishments. Use resume action verbs.
Skills and abilities: Be specific. An employer wants to know how you stand out. If you still have a line about competence with Microsoft Office or "computer skills," take it out. That's not special. Are you certified in an industry specific technology or fluent in a second language? Put that in.
Education: Do not include any graduation years unless you are young, just graduated, and don't have any relevant work experience yet. Does your existing resume tell everyone you graduated magna cum laude? Delete that. As proud of the accomplishment as you (and your mother!) rightfully are, employers don't care about academic honors or even your GPA.
References and salary: Take these off. Don't even say they are available on request. It's too early, and besides, the employer already knows this. You'll be asked for them when the employer's hiring process is ready for them. For more, check out our article: Candidates ask: Should I include references on my resume?
What about personal information, like how many children you have, your other interests, or your faith? HR doesn't want to know any of it, because it takes them too close to legal territory they need to stay away from.
Does it look sharp?
Choose a clean, professional-looking sans-serif typeface, such as Arial, Helvetica, or Calibri. Keep the font size between 10.5 and 12 points. Margins should be at or close to one inch.
For most job seekers, the resume should not exceed one page, but two pages is fine for higher-level positions. Crowding text on the page will be counterproductive, though; white space helps.
Your resume needs to be easy to read by humans and technology. And please, proofread with care. Your attention, or inattention, to detail will speak volumes to a potential employer.
Finished updating your resume? Let's talk!
Once you have updated your resume, you'll be ready to hit the ground running in the new year. Send your refreshed resume our way if you seek a position in one of the industries we serve. The Bradsby team of recruiters works with leading organizations who have career opportunities available for individuals with the right qualifications. You might be a great match for one of them!