With Thanksgiving upon us, holiday treats start appearing in break rooms and the halls get decked. Corporate parties are part of the festivities, too. They can be a time to shine – literally, with a touch of glitz and sparkle – or they can sink careers. The office holiday party is still a business event. It pays to approach it with care. Let's review some holiday office party etiquette. These guidelines will help everyone enjoy the season and maintain professionalism at the same time.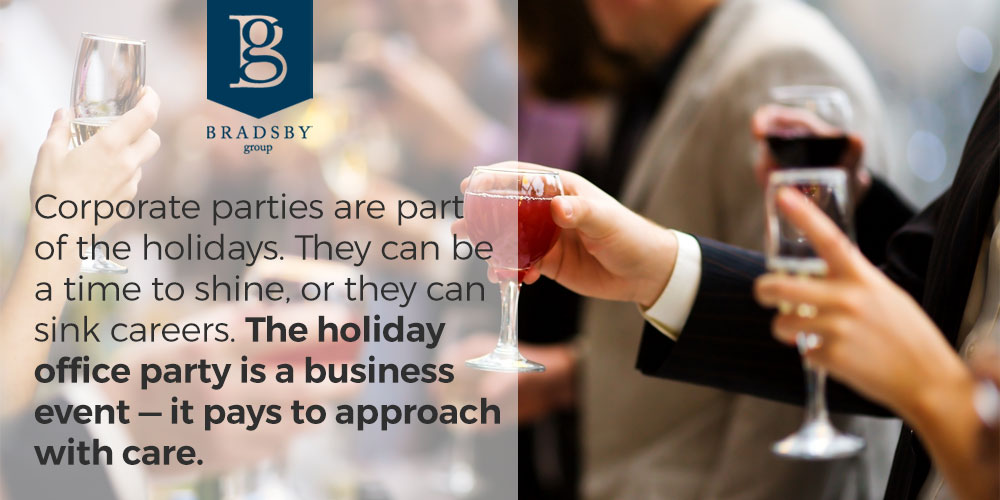 10 tips for office party etiquette
Plan to go.
Unless illness or another unavoidable circumstance keeps you away, plan to attend your business' holiday party. "You may not want to go," says Barbara Pachteer, author of The Essentials of Business Etiquette, "but it's important that you show your commitment to the company." Quoted in a Business Insider article, Pachter continued, "Your absence will be noticed, and most likely, noted by your boss and other higher ups."
RSVP.
The neglect of RSVPing drives party planners a little nutty. For one thing, they need an accurate number when they order food. If the invitation includes you plus one or your whole family, RSVP for each person who will attend. If it doesn't, don't assume you can bring someone.
Plan your outfit.
The invitation will probably indicate a dress code. When in doubt, ask, or choose attire a step more formal than you might wear at work. Keep in mind you're not going clubbing. A little more skin exposure than in the office might be acceptable, but not much. Note to party planners: "'Holiday Festive' is one person's Christmas kitten sweater and another person's little black dress," says manners and office party etiquette expert Maralee McKee. Please be more specific.
Consider your plus-one.
If you are taking a date, tell them about the dress code, any party theme, some of the people who will be there, and the planned activities. Don't invite anyone you don't know to be able to conduct themselves with courtesy and self-control, McKee cautions, because their behavior will be associated with you. Introduce your date to others, and don't abandon them with people they don't know while you work the room.
Moderate your intake.
Enjoy the buffet, but don't heap your plate high. No matter how tasty something is, don't ask for a take-out box. If you don't drink alcohol, that's fine. If you do, decide your limit in advance. "Nurse your drink," says McKee. Getting hammered at office parties might be funny in the movies, but in real life people under the influence do things that tank their careers.
Note to party planners: Please provide non-alcoholic alternatives, and always respect the choice not to drink.
Make the rounds.
This is a great opportunity to get to know that person you've only ever communicated with by email or Slack. You can enhance your connections by seeking out people at all levels of the organization and showing an interest in them.
Try to circulate rather than spending the whole evening with just a few people (a.k.a. don't hang with your usual office clique). Office parties are often easier for extroverts than introverts. If you're an introvert, you might find it helpful to plan who you want to talk to and think of some appropriate questions to start the conversation.
Don't talk shop.
There's one exception: if your boss brings up that project you've been working on, of course you talk about it. Otherwise, use the occasion to share other interests and learn more about who your coworkers are outside of work. Keep conversation light and positive. Three things that kill the holiday spirit and leave a bad impression are gossip, criticism, and complaining. Ask questions and practice your listening skills.
Behave appropriately.
Body language can speak volumes. At an office holiday party, "appearing bored or like you'd rather be anywhere else is just as bad as not showing up," writes Samantha Lee and Rachel Gillett in the Business Insider article. Respect the personal space of others, and by all means do not cross the line into flirting or seduction.
Choose a suitable gift.
Is the party in someone's home? Bring a host or hostess gift, something like flowers, a seasonal treat, or beverage. Is a gift exchange part of the party plan? If so, follow the price guidelines and don't give anything too personal, risqué, or otherwise in bad taste. In both cases, the better you know someone the closer you can match your gift to the recipient's interests.
Respond with gratitude.
Before you leave, seek out the host or hosts and express your gratitude for the event, including something specific that you enjoyed or found meaningful. If the party is in their home, send a thank-you note a few days after the event. Assistants often do much of the planning: thank them verbally and send a note to recognize their efforts as well.
Thank you from Bradsby Group!
We are thankful for the businesses we work with as a recruiting partner and celebrate all the successful placements we facilitate of high-quality candidates. Reach out to us for expert help in achieving your goals.