How do we thank our military veterans when they return to civilian life? One way to show our gratitude is to hire them for jobs where they can provide for their families and use the skills they've acquired. Hiring veterans is not only good for them; it's a smart move for businesses of all sizes.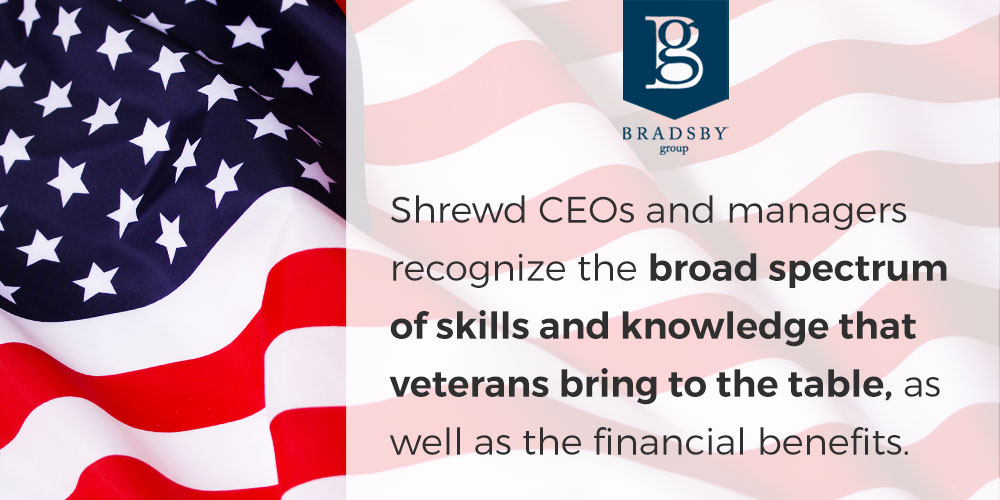 According to Society for Human Resource Management (SHRM) Foundation's publication, "Why Hire a Vet?", approximately 200,000 service members transition out of the U.S. military every year. "Shrewd CEOs and managers recognize the value veterans bring to the table," says the report. "Companies are learning that veterans offer a broad spectrum of skills and knowledge that can enhance small, midsize, and large-scale enterprises."
Why hiring veterans is smart
The case for hiring veterans includes both financial and intangible benefits, all of which contribute to developing a vibrant business. The SHRM publication acknowledges the perception of short-term challenges, which it says are mostly based on misconceptions and inaccuracies, but is emphatic that the long-term advantages far outweigh any initial bumps.
Veterans bring leadership skills.
"Experts say the average Marine is recruited at age 19 and by age 20, is typically promoted to become a non-commissioned officer and placed in high-stress leadership roles," writes Nash Riggens for Small Business Trends. They have learned how to meet strict deadlines, lead teams, and work in conditions more extreme than most businesses will ever throw at them.
Veterans bring advanced industry skills.
"Vets deliver subject matter expertise, years of on-the-job training, and advanced skills in everything from information technology, to transportation logistics and from supply-chain management to public relations," says the SHRM publication. An article in U.S. Veterans Magazine specifically focuses on construction companies, which find that "adding veterans to their workforce is not just a good idea, but also good for business."
Veterans bring a strong work ethic.
In U.S. Veterans Magazine, Related Companies Senior Vice President Frank J. Monterisi, Jr. says that veterans "are very valuable to our company and the overall construction industry. The men and women who come out of serving our country have dedication, a strong work ethic and are exceptional problem solvers — which are great attributes to have when working on construction projects." Or projects for companies in any industry, we might add.
Veterans bring a desire to advance.
"Continuing education and training are a benefit that most veterans desire," says U.S. Veterans Magazine. The government benefits they receive that pay for all or part of higher education positively impact the employer as well as the employee.
Veterans bring a global perspective.
Military service has required vets to work with international teams. They have experienced other cultures, seen how actions reverberate in an interconnected world, and in many cases learned languages other than English. Their perspective can be a distinct advantage to business in our global economy.
Hiring veterans boosts an organization's image.
Doing so reflects good citizenship and practical patriotism. There really is no downside to your brand.
Hiring veterans boosts the bottom line.
A 2013 study of veteran hiring found that "for a company of 1,000 employees with 25 percent veteran new hires, cost savings amounted to $325,000 per year," as reported by SHRM Foundation.
"I invest in veterans not to do them a favor; they are actually doing me a favor, because the qualities they bring to the workforce are invaluable," says Roger Staubach, JLL Americas, Pro Football Hall of Fame quarterback and veteran.
Military culture is goal driven.
Where could hiring veterans give your team the boost it needs to exceed your objectives?
Our recruiters will help you find men and women who have proven their dedication to achievement. Contact us today to get started.
To all those who have served in our military and those who currently are risking their lives to protect our freedoms, Bradsby Group says thank you.
For insights into creating a veteran hiring program, see the full SHRM Foundation publication, "Why Hire a Vet?"