A common question asked by job seekers continues to be, "Should I include references on my resume?" The answer is no, unless the employer specifically asks for them in the application instructions. Keep reading to understand the reasoning behind why it's not wise to include references on your resume, as well as best practices for when it is time to share your references.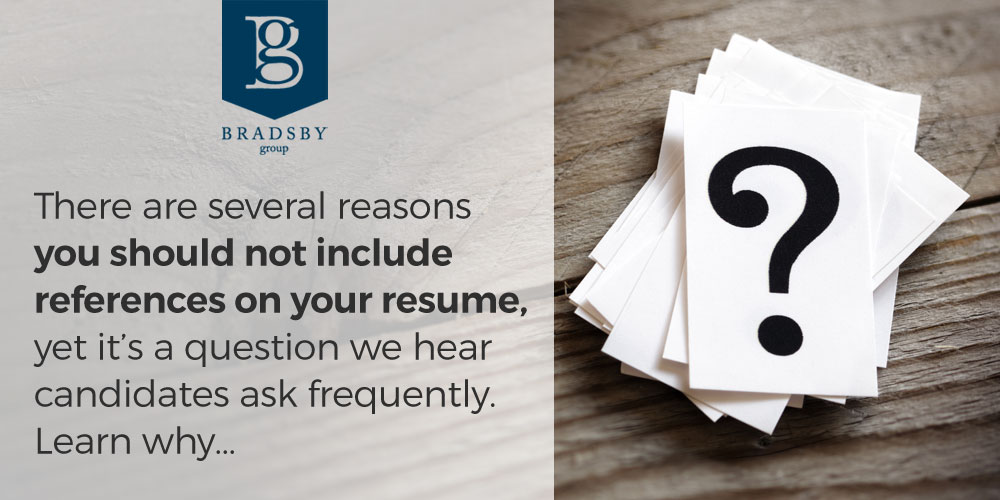 3 reasons references should not be on your resume
We've all been there, and have asked ourselves, "Should I include references on my resume?" Many times, the main driver for this is the reasoning that if the hiring manager could just speak to the people that will say great things about us, the hiring manager will no doubt want to schedule an interview. Unfortunately, the job search process does not work that way.
Your resume has limited space to make a first impression
You need to use every line of space you have on your resume to present yourself positively enough that a busy hiring manager with a pile of resumes to read will want to invite you to interview. They will not take the time to check references yet, and your resume will look more professional without them. Don't even take up one line with the tired "References upon Request." They know that and will request them when they need them.
Offering references prematurely signals your age – and might harm, not help,  you
"Including references was a more common practice in the past, so doing so when not asked for them might peg you as an older candidate," writes career expert Alison Doyle. While age discrimination is not legal, it can unknowingly sneak itself into perceptions and decisions. It is best not to plant those seeds.
Waiting until you are asked for references fits the employer's process
"For many employers, references are used to confirm many of the positive attributes they observed during the interview and to verify details of your work history that you may have shared," according to Indeed's career advice. Until then, a list of references is not useful to the hiring manager. Always remember that the employer will tell you when they are ready to receive them.
3 tips for providing references
Follow these guidelines to create a reference list that, when the appropriate time comes, will serve to confirm to a prospective employer that you are an excellent hiring choice to meet their needs.
Customize a separate document for references
Format your reference list attractively and consistently with your resume, so that when you are asked for it, it looks consistent with your personal brand. It is a good idea to have a master list you can draw from that covers various aspects of your professional experience. Be prepared, though, to tailor your list appropriately for each role. "All of your references should have good things to say about you, but some will be able to make your case more effectively for particular jobs," counsels Doyle.
Highlight the right information
If the potential employer does not specify how many references they want, give them three. Remember that the hiring manager is busy — put the one you feel will give you the best reference at the top of the list in case that's to the only call they have time to make. Include each reference's name, job title, company name, phone number, and email address, as well as possibly a note about your professional relationship with them. If the hiring manager has given you instructions for what to include on your reference list, follow them carefully.
Practice reference etiquette
Always ask people for their permission to use them as your references. Then prepare them to give you a good reference by sharing with them information about the company you are applying to and the job description for the role you seek. Make sure they have your most current resume, too. This will aid them in answering questions about you as it relates to the role at hand. Once you have supplied your reference list to the hiring manager, give your references a heads-up to expect a call from that organization.
The next time you ask, "Should I include references on my resume?" remember this: As a job candidate, you do need good references — no question about that. You also need to wait and share them at the most advantageous point in the hiring process. The potential employer will be the one to say when that is.
Find your next job opportunity
We have helped thousands of candidates more efficiently and quickly arrive at the promising time when they are asked to share references, and we celebrate with them when they receive the coveted job offer letter. For decades, Bradsby recruiters have been matching leading companies in multiple industries with the talented individuals they want to add to their team. You might be next. Call us today to find out more.
For more guidance on resume writing and interviewing, see our Candidate Tools page.