What do you do when you have an employee who is a dream come true at his or her specialty, but a nightmare to coworkers and customers (a.k.a. a high-performing jerk)? Is it wise to tolerate bad behavior because the metrics are great? Or is the cost too high?
You know the type. The bully. The passive-aggressive manipulator. The self-promoter. The conflict creator. The liar. The narcissist, the harasser, and the abuser.
Yes, the cost to your company and its culture is too high. Not even a metric-busting performance justifies keeping a jerk on staff. In her article titled "Rooting out Jerks Is More Important than Hiring Superstars," Jessica Stillman cites Harvard research showing that the firing a toxic employee is worth more than twice as much as hiring a superstar. And that doesn't include the collateral damage of losing other staff who decide they no longer want to work in the poisoned environment, or even possible resulting lawsuits.
It's up to leadership to hire wisely, establish a no-jerk culture, and know when to terminate the troublemaker for the good of all.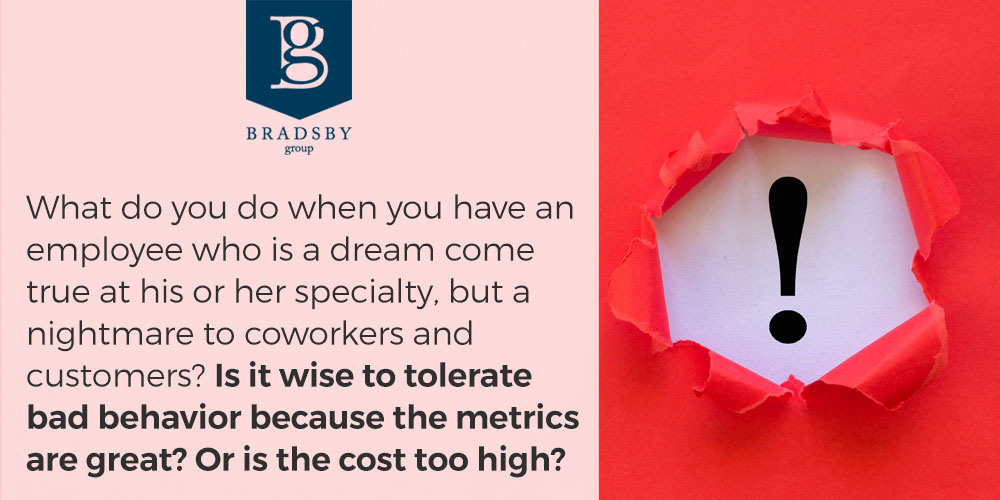 How can you tell if a candidate might be a jerk?
Dylan Minor, co-author of the study cited by Stillman, points to interview red flags. Over-confidence and high self-regard go together. But also watch for someone who stresses the importance of rigid adherence to rules. Says Minor, "I find very strong evidence in my study that those that say 'Oh no, you should always follow the rules' versus those that say 'Sometimes you have to break the rules to do a good job'… are much more likely to be terminated for breaking the rules."
How can you create and maintain a no-jerk culture?
Maintaining a no-jerk culture is as simple as creating metrics, establishing values, and then holding everyone accountable.
Measure "how" as well as "how much."
It's more challenging to measure soft skills than, say, the number of sales or progress toward a goal, but not impossible. Evaluate the quality of collaboration, for instance, by asking coworkers to contribute to assessments.
"Stick to the SMART principles," says HR professional Matthew Francis in his article, "High Performing Jerks = Culture Crushers!"
"Design something specific that is meaningful to your employee. Better yet, use the soft measures as a gate-opener to the hard measures." What does that mean? "If you don't play nice, you won't be rewarded financially, regardless of [other KPIs].
Establish corporate values that include intangibles like respect, trust, and kindness.
Communicate them well and often. "It is up to those who occupy leadership roles within an organization to set the tone of the culture; to define what is 'above and/or below the line'," says Francis.
Peter Cohan, management consultant, writes in Entrepreneur that Tintri, a data storage company in California, does this well. He quotes their spokesperson, Katelyn Davis: "We truly believe that setting clear boundaries, a strong culture and open communication are the best cure for jerk-like behaviors."
Hold everyone accountable to boundaries.
"We are very clear about acceptable and unacceptable behavior," Davis says. "When current and new employees cross the line, every employee feels empowered to tap a colleague on the shoulder and say, 'Hey, your behavior may have crossed the line.'" Davis emphasizes that the CEO must be included in this accountability, too.
Is it time to fire the jerk?
Document all the problematic interactions and have witnesses, so you will be prepared when the day comes when you need to part company. Do not let things fester or make room for bullies. Attempts to negotiate with them will demonstrate to the rest of your staff that you cannot be trusted to provide a safe, positive culture for them. You will lose loyal, productive, collaborative, team members. Isn't it better to cut bait on the one who will drive them away?
Let us help you screen candidates to guard against a costly, toxic hire. Our experience has prepared us to ask the right questions of the right people to learn whether an otherwise well-qualified candidate will have a positive or negative impact on your culture. Give one of our recruiters a call today.