A thank you note is common courtesy when you have received a gift or been a guest. Or should be – unfortunately, it's not so common any more. The person who sends a thank you email or note therefore stands out. Sending an interview thank you email may not guarantee you a better chance to get the job. But not sending one will definitely lower your chances.
Why an interview thank you email or note matters
It signals good interpersonal skills. You are communicating that you respect others and show appreciation for what they do. It displays that you know and practice the basics of business etiquette.
It reinforces your ongoing interest. If they have any interest in you at all, they wonder what you thought of them after the interview almost as much as you wonder about their impressions of you. Don't leave them with an iota of doubt about your enthusiasm. Connect the dots.
It is an opportunity to redeem a less than stellar interview. "There are times when the candidate has a terrible first round, usually due to nerves," says etiquette consultant Jodi RR Smith, quoted by Jennifer Post, contributor to Business News Daily. "But they took the time to write a sincere and well-considered note explaining their interest in the role and how their experience makes them uniquely qualified."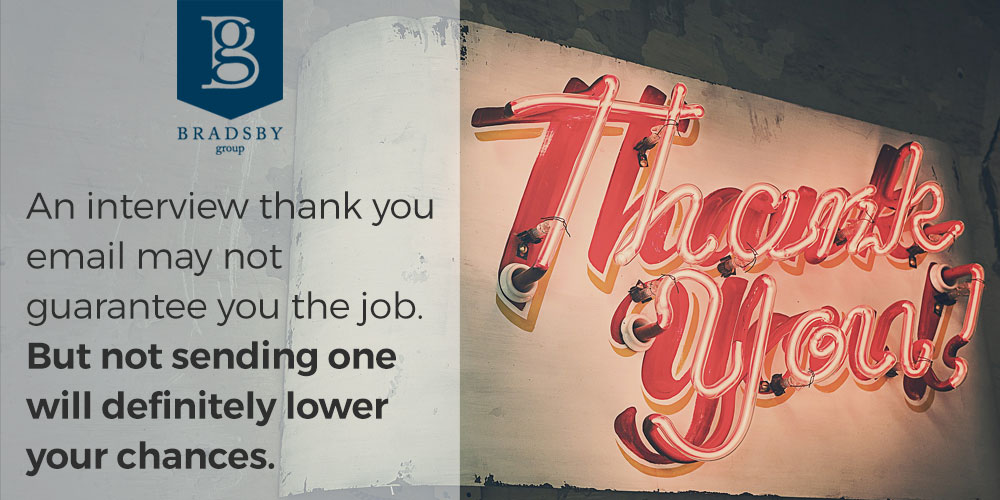 How to send your thank you email or note
Thank you emails and handwritten snail mail are the two options. Email is generally acceptable today. But, counsels Post, factors to consider are the corporate culture of the organization, the timetable for the decision, and the possible need to send related information as a follow-up to the interview.
Did you interview with a tech-oriented company with a casual culture? You can probably safely assume that an interview thank you email will be fine. Is the company traditional with a more formal atmosphere? A handwritten note on nice stationery that comes by mail will likely make the best impression.
Have you been told that the organization will make a hiring decision a few days after you interview? Stop in the lobby to write the note and hand it to the receptionist on the way out or send one by email right away, says Smith.
Was a question asked during your interview that required more information than you had in the moment? An interview thank you email is the ideal place to attach documentation to give a more complete picture of what you would bring to the job.
In a Forbes article about the post-interview thank you, Liz Ryan recommends immediately sending a quick handwritten note and then also emailing a longer one a few days later.
What to say in a post-interview email
Greet the interviewer. Be sure you get the name correct. If a group interviewed you, address it to the lead with a request to please share your gratitude with the rest of their team. Keep the salutation professional. Say "Dear…" or "Hello…" not "Hey…" or "Hi…"
Express specific appreciation. Obviously, they invested time in your interview, so start with that. Is there anything else that was meaningful to you?
Mention something unique to their conversation with you. They are human. They're interviewing multiple candidates. This reference will help to remind them of who you are among the multitudes.
Reaffirm that you believe you would be a good fit for the job.
Close politely. Bookend the note with thanks and sign your full name.
A handwritten note will need these points to be conveyed in no more than one sentence each. An interview thank you email can include a bit more detail, but don't overdo it. And stay positive, whatever you do.
As a resource to talented individuals seeking a career opportunity, we provide a page of Candidate Tools on our website which includes tips to help you excel at interviewing.
We recruit for top companies who have openings for highly qualified team members. Give us a call to see if you are a match for any of them.