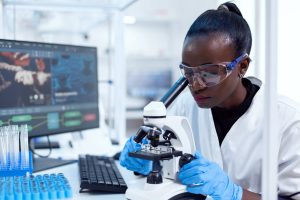 Biotech industries often require competent candidates that not only have the ability to solve problems easily, but can also think outside the box when working on puzzles that bring many different areas of expertise together. A good example has to do with the researching of biofuels, which requires careful analysis of unique materials not only from a technological perspective (regarding quality and performance of the substance when used as a fuel), but also in terms of its biological potential for faster growth.
Biotoech, robotics and automation jobs are highly demanding, and failing to get the job done properly can mean that the company will lose a lot of money on research and materials that are hard to come by.
An experienced team of scientific recruitment specialists will usually focus a great deal on testing the knowledge of potential candidates, examining them from the point of view of their attention to detail and ability to solve complex puzzles, and evaluate their skills in specific scientific subjects such as physics, chemistry, biology and various other nature sciences.
If you want the best possible results from your biotech and other types of scientific career candidates, hiring a dependable team of scientific recruiters is something you simply have to do. They will have the knowledge and expertise to find you the most qualified and dependable candidates for all your positions.