If you are a highly competitive company who wants the best candidates for C-level positions, you should know that they are almost always already employed, which means that they do not actively look for a job.
An 'active job seeker' is someone who is active in the job market, by posting a resume on job sites, contacting recruitment companies, and actively applying for a job. An executive search company is not waiting to be approached by active job seekers. Instead, they will embark on a journey in the opposite direction – actively searching, approaching and directly addressing the best candidates.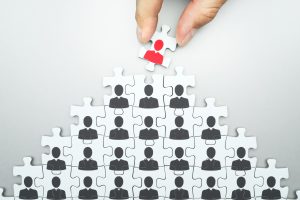 In most cases, the best suited candidate is hired by another company, perhaps even by a competitor, and it is up to resourceful C suite recruiters to find them and motivate them to consider your offer.
In the C-level executive search activity, specialists look for candidates for senior executive positions. When dealing with talents of this caliber, the proactive search methodology is effective, whether they are actively looking for a job or not. The time given to each candidate is very important because it allows the recruiters to learn their personalities. Because recruiters are dealing with passive candidates who are already full-time employees, they often need to persuade them to accept a new role as an important step forward in their career.