This year's new college graduates are facing a tough job market because of the hit the economy has taken from the coronavirus pandemic. The landscape has shifted, with unemployment at record highs. Opportunities are out there, but job seekers may need to reconsider which industries are most likely to be hiring right now. Which industries are good bets and the best jobs for college grads this year?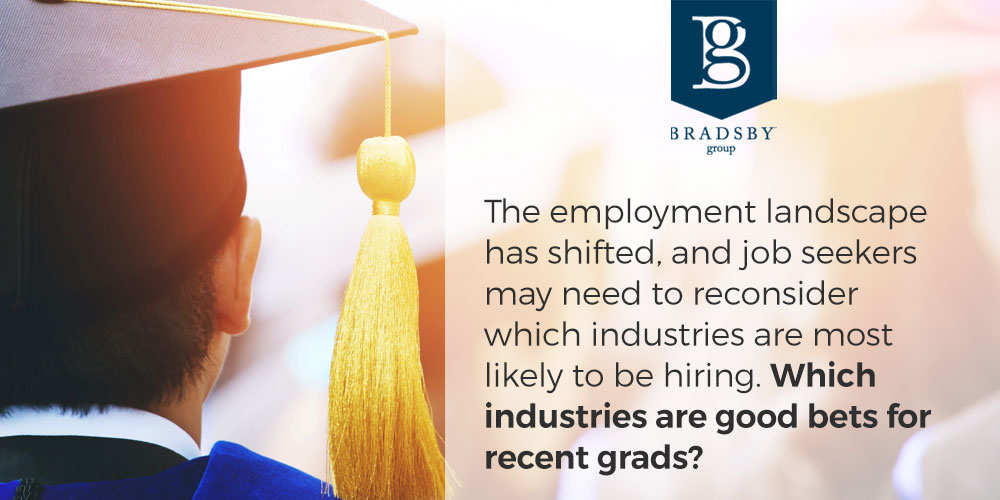 6 industries with the best jobs for college grads in 2020
As you read the following list of the best jobs for college grads, keep in mind that while each one has associated science related careers, across the board, they all also require leaders with strengths in management, technology, analysis, research and development, marketing, legal, and finance for key roles. Robotics and prototyping are fast-growing career fields that have applications in several of these industries as well.
Life sciences
This field continues to expand to meet the need for new treatments and technologies to address chronic illnesses, genetic disorders, and traumatic injuries. Researchers, data analysts, IT managers, and statisticians all are necessary to finding new solutions to improve and save lives. Data analysts and statisticians, both so critical in the biosciences, are professions with predicted employment growth rates of 26 percent and 31 percent, respectively.
Environmental, health, and safety (EHS)
If we weren't previously completely aware of how important sanitation and safety are, we are now. A CNBC article puts waste management at the top of a list of industries hiring, as of mid-April. Examples of degrees preparing a person to work in that sector would be earth resources engineering, chemical or civil engineering, biology, environmental sciences, and more.
Online retail
Customers' ability to order online and have purchases delivered has become essential to the survival of any retail business. Providing an efficient and pleasant customer experience requires web and app developers and IT support, as well as customer service specialists.
Supply chain specialists are needed to anticipate and create strategies to keep up with demand. Operations analysts help solve problems and keep processes working efficiently to maximize profits, as well as customer and employee satisfaction.
Grocery
Grocery is an important subset of retail – both online and brick and mortar locations. All the same needs apply in this essential industry. A variation on the theme of feeding Americans is meal kit delivery, which Ibis World reports is one of the fastest growing industries in the U.S. with nearly 23 percent revenue growth anticipated in 2020.
CBD/Cannabis
As more states legalize medical and recreational marijuana, the cannabis industry shows major growth. Two aspects of its business, growing and retail, are projected to increase revenues by 25 and 23 percent, respectively, in 2020, according to Ibis World.
Technology
Technology as an industry permeates all the others, undergirding how things get done with software and apps. In the US News and World Report article cited above, software development is at the top of the list of careers for growth with 241,500 jobs projected to be added between now and 2028. Graduates in this field who can collaborate to help businesses solve problems, create innovations, and provide support, will be valued additions to teams across the economy.
Our team can help you find the best jobs for college grads
Bradsby Group is a trusted recruiting partner for several of these specific industries. We are an executive search firm, recruiting highly qualified candidates for senior and executive-level positions.
Check out our Industries page and then click Land a Dream Job to view our partners' current openings.
If one of the open positions is a match for your talent and career goals, let's connect! You don't have to go it alone in this challenging time — let us help you take a step into your future.