Job loss hurts, especially when it happens through no fault of your own. If yours has disappeared in the COVID-19 pandemic, the one consolation might be that you are not alone. But that also means you have more competition in the job search, too. You will need a plan to move forward.
3 moves to propel you forward after job loss
Your plan for finding a job during an economic downturn requires three essential pieces — your resume, your network, and a very good recruiter.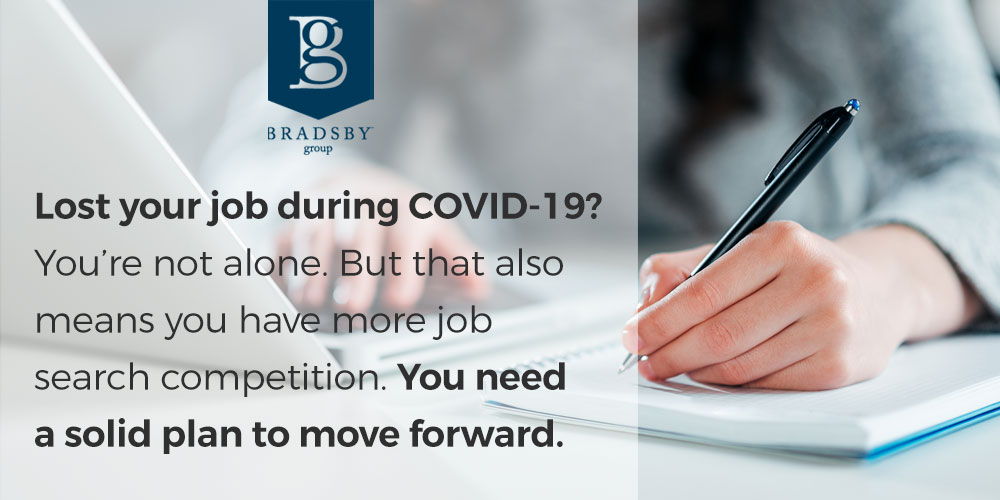 Update your resume
Nothing sinks your job chances like a dated resume. Hiring managers and screeners give each one 10 seconds or less before they decide to toss it or advance the candidate, so it needs to be polished. An updated resume is an asset to market yourself well. Use it to highlight the benefit you can bring to a new employer.
Question: Does your resume reflect your most current experience, and is it appropriately focused on your desired next steps?
Our Candidate Tools page has a wealth of helpful information on what makes a good resume. Plus, our blogs contain several resume-specific articles. We encourage you to investigate all the links in this post.
Fire up your network
It's time to light some sparks. Job seekers who network have a clear edge in normal times, and now it is an absolute must. Of course, you will let family and friends know and ask them who they might know. Think also about any professional associations you belong to, your alumni network, and LinkedIn.
LinkedIn is built for this. Its giant database is just waiting to be researched for potential connections and careers. You can do way more with it than posting that you are "open to new opportunities." Are you already linked to people working in industries you prefer? Message them to ask where they might see opportunities for employment and who they might recommend you contact.
If you already know of a company you would like to work for, follow it if you have not already and watch for indications that they might be hiring. Check into their corporate leadership to see if you have any common connections or background.
LinkedIn is an important part of the networking toolbox, but treat it as window to the wider world. Does one of those execs serve on the board of a nonprofit where your cousin's wife works? You might have a personalized reference in the making, or at least a connection to mention in your cover letter.
While you are at it, update your LinkedIn profile. Hiring managers will be using LinkedIn to research candidates, too. Your name, photo, and headline are what they will see first. Make your headline specific enough to entice them to read your whole profile. Like your resume, this is a critical place to sell yourself as the professional you know yourself to be. The two should not duplicate each other, but do be sure they have consistent information.
Question: Which three people can you reach out to today to activate your network?
Talk to a recruiter
Sure, you can check job boards online – exactly like hundreds, if not thousands, of applicants just like you. A more fruitful move is to talk to a recruiter. Recruiters know about opportunities before they hit job boards because lots of top-notch businesses trust recruiters to position them a step ahead for the best talent. A recruiter functions like a personal matchmaker instead of a huge dating site, and the employer pays for this service.
Question: Which recruiter will you turn to?
Bradsby Group is here to help after a job loss
Start by perusing the industries we work with and the current job listings our recruiting partners have shared with us. Then send us your updated resume. We have matched countless talented individuals like you with businesses where they could shine during the decades we have been recruiting specialists. We look forward to hearing from you!