Recruiting and onboarding: They are two halves of the hiring whole. When they are both working well, your business is highly likely to end up with a talented, committed team in sync with each other. Miss the mark on one, and hiring effectiveness suffers. It can be additionally challenging to do both remotely, such as in periods when physical distancing is necessary due to health concerns. The time to plan for remote onboarding is now, if not sooner, prior to recruiting. What does it look like when done well?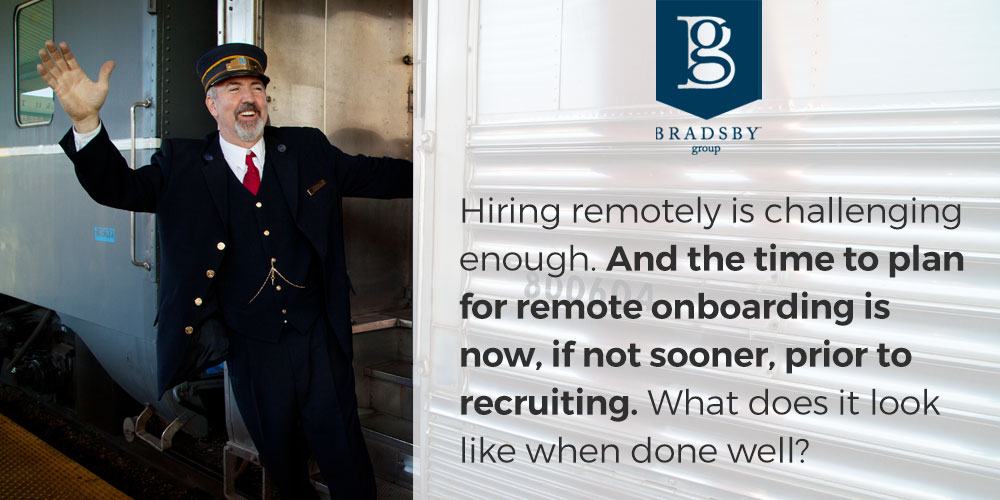 Also, check out our previous article about remote recruiting.
4 keys to optimum remote onboarding
One reason remote onboarding is so important is that its quality will have a significant impact on employee retention. Even during times when physical distancing is not required, the onboarding process is critical. According to Harvard Business Review, as reported by HR tech company Ammeon, 69 percent of employees say they are more likely to stay at a company for at least three years if they have a great onboarding experience. Turnover is expensive, so it pays to get this right.
Platforms
Start on day one to orient new employees to the tools and technology they'll need to do their job. This is always important for onboarding, but especially crucial when all communication will be happening digitally. If you are issuing employees devices to use, make sure they receive them immediately and they're ready to go. If they will be using their own devices, train in the necessary security guidelines. Give clear instructions for smooth access to all the accounts they will need.
Don't assume tech is working — ask. It's frustrating to start a new job when you aren't familiar with anyone or the corporate structure, and then encounter problems with the tools you're given to use when you're still unsure of the path to get them taken care of. Assigning a Tech Buddy helps: one IT contact person to be available and check in regularly through the transitional setup with the new hire.
Paperwork
Getting all the required forms filled out should not be a problem, given digital sharing and e-signature capabilities – except for the I-9 form that is supposed to be done either in person or witnessed and notarized. However, the Department of Homeland Security recently announced that "during the COVID-19 pandemic, completion of I-9 forms in businesses where physical distancing precautions are being applied, can be temporarily examined virtually by the employer within three days after the initial hiring date, as long as certain criteria are met," according to the Workable.com HR blog.
Modify processes for remote onboarding
Plan to have video conversations as early as possible between the new hire and their direct manager about the expectations of the role being filled. Include orientation into your work culture norms and how they are being adapted to the remote paradigm. "It is important that managers and colleagues take the time to show employees how things work in the company," says Ammeon. "Helping the new starter to interpret the ceremonies and rituals of a company can help them fit in more quickly and understand how they can adapt their ways of working to the culture."
On the flip side, balance the need to fit in with awareness of people's different strengths and styles. For instance, leave breathing room in the remote onboarding plan for processing information learned. Allow flexibility to spend less time on areas where an experienced person is already up to speed.
People
Feeling welcomed and becoming part of the fabric of coworkers is essential for new employees' satisfaction with their onboarding, and as such cannot be left to chance. Here are some tips:
Start early. Enlist the direct manager, as well as several coworkers, to reach out in various ways starting two weeks before the start date. They could even have lunch together by ordering restaurant delivery for the soon-to-be-colleague, then eating and chatting together in a Zoom room, suggests Caitlin Mullen, contributor to Business Journals.
Pick a Welcome Buddy. In addition to a Tech Buddy for the new hire, find a person on your team who has a natural spirit of hospitality and enthusiasm for the business to serve as a Welcome Buddy. In a way, he or she will function as a mentor, showing the new employee the ropes and introducing them to other colleagues.
Connect human to human. Include virtual coffee-break or team-building activities in your remote onboarding schedule during which work talk is not allowed. Prepare existing staff in advance to avoid using the time to chat about things they're already familiar with, as if the new coworker isn't in the room. Otherwise it only accentuates the feeling of being an outsider.
Many of these suggestions can add to the success of onboarding — even when you don't have to do it remotely. We welcome hearing about your adaptations, too.
How will you add to your team?
Our goal as a recruiting partner is to provide you with connections to top-notch talent for your leadership openings, as well as your long-range staffing strategy. We've done that successfully for hundreds of organizations, and we can do it for you. Contact us today to learn more about our process and get started.