Work-life balance has always been important. It has become even more so in this unprecedented season when the separations between work and home have literally disappeared.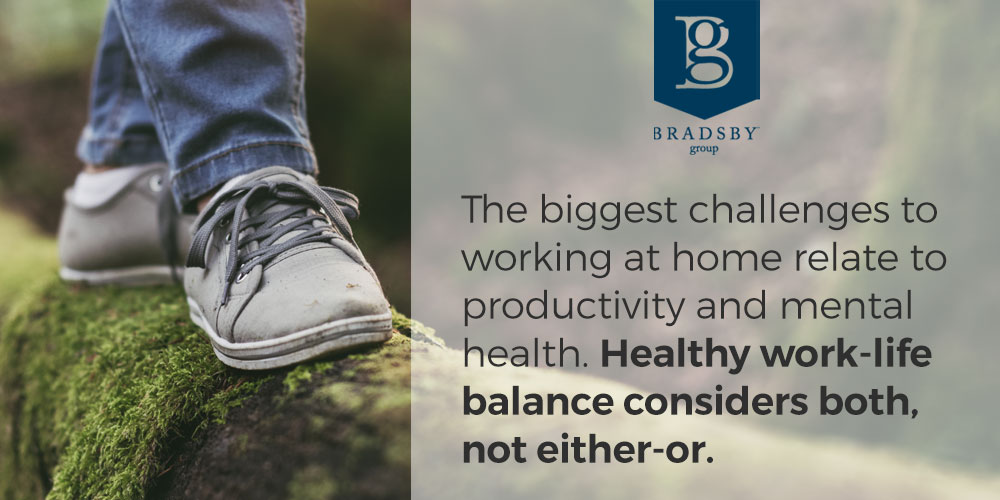 As we write this in the spring of 2020, more employees than ever are working from home to protect themselves and others from contagion. Freelancers and other virtual workers might be used to it, but for everyone else, an adjustment period is going to be inevitable and normal.
6 tips to manage your work-life balance when you're home all of the time
The biggest challenges to working at home relate to productivity and mental health. Healthy work-life balance considers both, not either-or. These tips apply whether your work-from-home situation is temporary or continues beyond the shutdown.
Create a workplace
Don't try to recreate your desk at the office, but do organize what you need to function. If you can leave it set up and cordoned off from other activity, that's great, but in many families that won't work. Regardless, it will help you and those you live with to understand that you are "at work" when you are seated in a specific place at a specific time. You will also need to arrange a decent, uncluttered background for video conferencing.
Remember that you are in your home. That's fine, because everyone is. Unless you have the luxury of a separate room with a door, accept the fact that you can't exclude all other people who live there and their activities. Also, for your own wellbeing, feel free to occasionally move out to your own patio, if you have one, and enjoy the sunshine while you work.
Designate work hours
As they say, get up, get dressed, and show up. If your employer uses time-tracking apps, you will, of course, manage your work accordingly. Otherwise, you'll have to set your own hours. They could be the same as your normal office hours, but depending on your family's needs, you may need to adjust. You could even create a sign that changes from "In" to "Closed for the day." Setting regular work hours benefits both sides of the balance, guarding your productivity as well as your boundaries so that work doesn't take over all your personal time.
If you have children at home, keeping up with their schooling and supervision will require some amount of your time as well. Consider coordinating household responsibilities between older children and adults. It may work better to think of stacking shorter chunks of productivity, rather than blocking off a whole, or even half, day.
Communicate with your housemates about your desire for work-life balance
Everyone but the smallest children can understand the need for adjustments to accommodate work and school functions that are new to home. A reasonable conversation about how to make it all work and a willingness to listen will help establish cooperation in both adults and children. Talk it through in the beginning, then plan regular check-ins. If people know when they will be heard, they can usually wait rather than interrupting – unless it's an emergency, of course.
One positive outcome of crisis work-from-home arrangements might turn out to be improved overall communication, cooperation, and respect for boundaries. Think of this as time for everyone in your household to practice these coveted and practical life-skills.
Communicate with your work partners
Project management apps and digital communications enable a remote team to work productively. But you need more than that. "A top priority," writes Garen Staglin in "When Home Becomes the Workplace: Mental Health and Remote Work" for Forbes, "is the need to maintain relationships with co-workers and managers. This is critical not only to work performance, but to emotional and mental wellness." Some companies meet this need by encouraging a digital break when staff can check in over coffee.
Video conferencing from home might reveal aspects of our lives others have not been aware of. Even with the best efforts to control the environment, your supervisor's cat might wander into her lap during a call. Or your child might call out a request for help in the background. Accept it. Solidarity grows when we realize we are all full-blown humans in this together.
Know yourself
When are you most productive? Some people focus on intensive work in the morning because they know that's when their concentration is highest. Others save those projects for evening. Does social media or gaming distract you? Turn off notifications and do whatever is necessary to make it harder to access your digital escape route. Instead, use those activities as a reward after accomplishing specific work-related goals.
Practice self-care
No matter where you work, taking care of yourself is even more critical in times of high stress and uncertainty.
Eat nutritious, regular meals. Don't work with a quart of ice cream and a spoon at your elbow just because you can and you're stressed – it's self-defeating, and you don't want to come out of isolation carrying an extra ten pounds.
Take real lunch breaks.
Build exercise and fresh air into your daily habits.
Vary your working posture from sitting to standing.
For your eyes' sake, according to WebMD, follow the 20/20/20 rule: Every 20 minutes or so, look at something about 20 feet away for about 20 seconds.
While you're at it, use those 20 seconds to breathe slowly and intentionally, in and out.
Experts in mental wellbeing tell us gratitude is a game changer; consider starting a gratitude journal where you capture the daily graces of your life. On the flip side, pay attention to when you need help and don't be afraid to be vulnerable enough to ask for it.
We're all in this together
Whether you are working from home or are considered essential, and therefore still working on site, we share your gratitude. If you have suffered a job loss, we share your sorrow.  Your career goals still matter and we at Bradsby Group are here to help. Let us help you find opportunities.