If you're seeking a new job, you need to be camera ready. No, you don't need a makeup artist, but you do need to prepare for a video interview, which is becoming more and more common in today's workplace. In this article, we'll cover the fundamentals of this rapidly growing interview style. Let's get you camera ready with these nine video interview tips!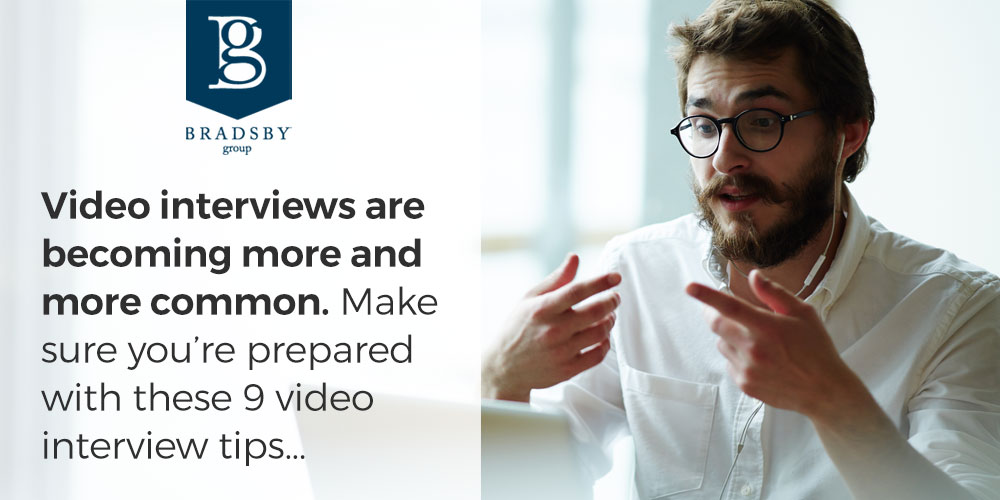 First things first — why are more employers interviewing via video?
Video technology has made it  relatively easy for employers to more fully assess candidates during all phases of the hiring process.
There are many obvious reasons for employers to conduct interviews via video, including:
Hiring managers can evaluate candidates faster and reduce the time to fill a position
Scheduling with candidates can be much faster
Conducting interviews with candidates who are not close by (for example, in other states) is possible, while drastically eliminating travel costs
Other decision makers can review a recording at a later time and provide feedback
9 important video interview tips
An element of stage fright can creep into video interviewing, as if you were performing on live TV for the first time. Thinking of it as a "show" will actually help get you in the right mindset, advises Paul J. Bailo, author of The Essential Digital Interview Handbook. "You're the star," he says, quoted in Business Insider. "You're the sound person, you're the light person, you're the camera person, you're the copyright person, you're the makeup artist. You're everything to put this show on."
Follow these nine expert video interview tips to show your best self in front of the camera.
1. Choose your place carefully.
Video interviews require a distraction-free location with reliable internet connectivity. You don't want noise or your backdrop to draw the wrong kinds of attention. Avoid a messy room or distracting pattern or artwork behind you.  If necessary, check into reserving a co-working office or study room at a library for your interview time.
2. Rehearse.
This the best thing you can do for yourself. It will hone your performance and lessen your fear. Enlist a friend to do a few practice sessions with you, on the same video platform the prospective employer will use, if possible. Get honest feedback, then try again. Remember to be yourself; perfection is not required, only your best effort.
3. Check your setup.
Have your device and connection ready 10 minutes prior to your interview time. Check the quality of both video and audio capture in advance. Have your device fully charged; better yet, plug it in. Close all other tabs to optimize available bandwidth and minimize distractions.
4. Plan for something to go wrong.
The internet might go down, or a device such as a laptop or tablet might experience a glitch – it happens. Just in case, get the interviewer's phone number at the top of the interview so you can call them if the connection drops.
5. Prepare camera angle and lighting.
Position the camera at eye level and at the right distance to frame your head and shoulders in the shot. "The angle is so critical," Bailo says. "The psychology behind it is if I'm looking down at the camera, I'm looking down at the hiring manager, and they feel subservient." You don't want your face in shadow or so lit up that you aren't clearly visible. Move yourself, the light, and the camera around until it works.
6. Project professionalism and positivity.
Smile and speak conversationally, and don't curse for any reason. Dress professionally. Even if you aren't meeting the interviewer in person, you should dress as if you are. And be sure to thank those involved for their time and send a thank-you email a few days later.
7. Make eye contact.
With video, eye contact means looking at the camera when you are speaking and at the screen when you are listening. Using notes makes sense by phone but not during a video interview, because your eyes shifting to look at them will be noticed no matter how discrete you think you are. "The perception will be that you aren't confident, aren't prepared, or aren't engaged – not the message you want to send," says Ashira Prossack, careers writer for ForbesWomen.
8. Ditch your phone.
Put it on silent, out of sight, and out of reach so it can't tempt you with an alert.
9. Prepare to record.
Some employers use pre-recorded video interviews in place of an initial phone screening. You'll be given a link and interview question prompts for a one-sided video conference. Instructions will cover how long each answer should be and how many times you can re-record your answer to get one that you like. That re-record option can take the pressure off, but don't overuse it or you might end up sounding robotic, cautions Prossack. Try to speak conversationally into the camera as if another person were there.
Most importantly, use these video interview tips when preparing just as you would for any in-person interview. Do your homework about the company. Review the job description and your unique fit to fill it. Prepare good questions. Be appreciative of the time they are giving you, and above all be authentic.
Land your next opportunity!
Our recruiters can help you land the type of role you are seeking. If you're looking to make a career change in one of our favored industries, send us your resume today and let's get started.