Competition for top talent is tight these days. What can hiring managers learn from marketing to attract the best? As it turns out, quite a bit. Recruitment marketing is a strategy increasingly utilized by successful hiring professionals.
Recruitment marketing starts with a shift to thinking of potential job candidates the same way marketers think of customers. It's about branding your organization as an employer and creating engaging content that is meaningful to job seekers to create interest in joining your team.
Just like other forms of marketing, recruitment marketing starts with a plan built on fundamentals: utilizing relationship-nurturing content and measuring the results.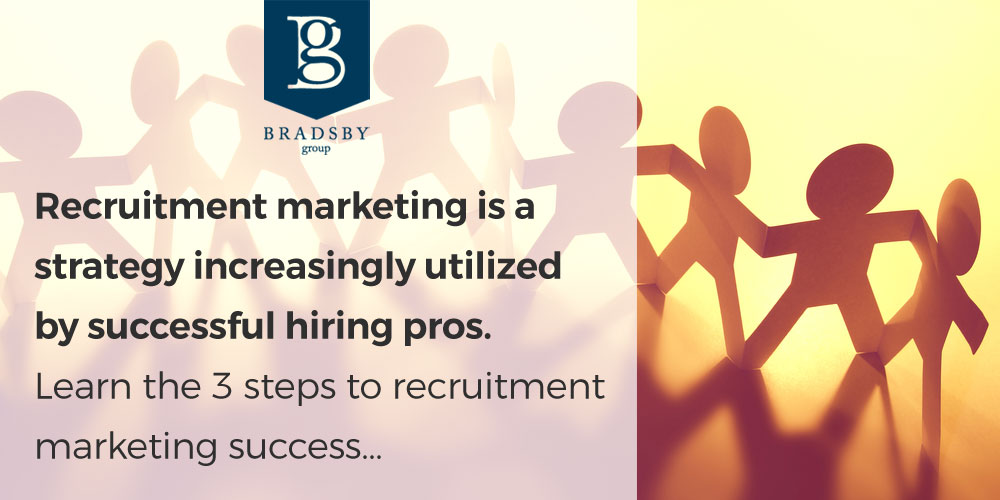 3 steps to recruitment marketing results
Create a plan to attract the right candidates.
A successful marketing plan builds on fundamental knowledge of the offering, the customer, and the competition. Recruitment marketing is no different. Ji-A Min, head data scientist at recruiting software provider, Ideal, names several essential elements to recruitment marketing:
Know your employer brand. What is it like to work for your company? Clarify this with your team if needed. This will unify your content and provide a clear image to applicants to help them decide whether they are a good match for your culture and values.
Identify an employee value proposition. Why should someone apply at your organization instead of somewhere else? This is the time to talk about the benefit an employee can expect. Focus on the employee perspective instead of your organizational goals.
Envision a candidate persona. Who is your ideal employee for the role you are seeking to fill? Describe them. What matters to them? Where do they hang out, so to speak? A good plan will reach them where they are, mentally, professionally, and digitally.
Analyze your competitors. Know who else is recruiting the same people you are and plan to differentiate yourself from them. Your employee value proposition should help.
Create content to engage candidates.
The digital marketplace has altered the buying and hiring experiences in similar ways. Customers now routinely seek out online content to get 60 percent of the way through the sales process before they want to engage with a sales rep. Likewise, job seekers now expect to be able to research a company for themselves before deciding to apply. If they can't find content that tells them what they want to know, you won't get their resume.
"What better way for companies to show off their workplace advantages than by sharing engaging content that highlights their companies in creative, unique, and compelling ways?" writes Jodi Harris for Content Marketing Institute.
Plan to create video as well as text; it is often more engaging than pure text, especially for younger workers.
Post all your recruitment marketing content on sites like LinkedIn, Glassdoor, and Instagram in addition to your employment opportunities page. Meaningful content can include:
Educational blog posts about trends in the industry
Video that shows a "day in the life" of what it is like to work at your company
Testimonials, with photos, of successful employees at your company
Existing marketing content that's been tweaked and repurposed for talent acquisition
Create metrics to assess results.
Just as marketers need to be able to analyze the success of a campaign, hiring managers need to measure results to justify the expense of recruitment marketing, and know what works and what doesn't. "A successful recruitment marketing campaign will lower your recruitment costs and time to hire because it will attract more qualified and engaged candidates to your open role," writes Ji-A Min. Her article recommends creating metrics such as:
Cost per applicant
Cost per hire
Visitors-to-applicants ratio
Time to hire
Get an edge in the tight labor market
Another way to give your company an edge in reaching the talent you need is to work with a recruiting partner like Bradsby Group. We know the market and the competition, and we can help you source more of your ideal candidates. Contact us today to talk about your hiring strategy.