A staggering 85 percent of workers globally are disengaged employees, according to Gallup's most recent numbers. The cost to employers in lost productivity can be measured in trillions of dollars.
Employees who aren't engaged at work are not motivated to give more than minimal effort. They produce poor quality work and they aren't good collaborative partners with their coworkers. Disengaged employees also miss work more frequently.
Jim Harter, writing for Gallup, places the responsibility for improving employee engagement firmly at the feet of management. He calls for businesses to revisit their review and feedback processes and redesign them to match the changing priorities of the workforce.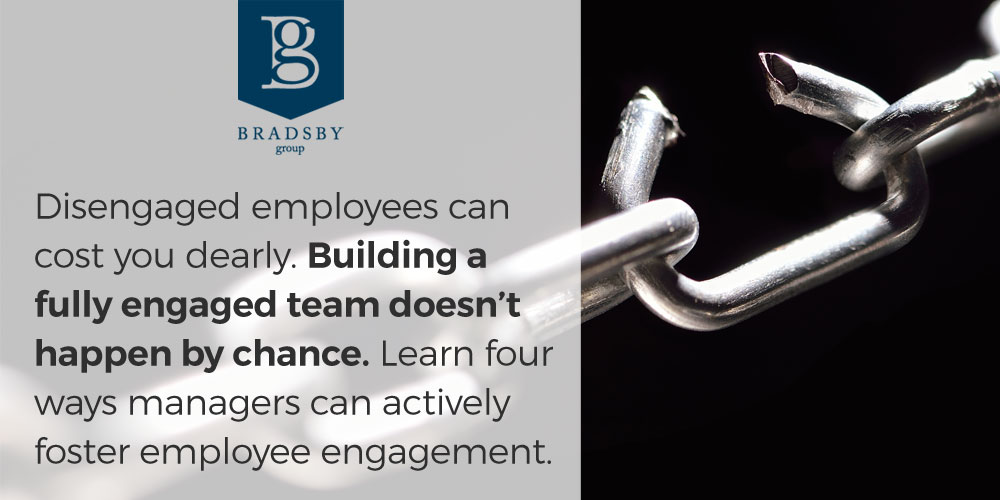 "Most of modern business relies on annual reviews to provide feedback and evaluate performance. And yet the new workforce is looking for things like purpose, opportunities to develop, ongoing conversations, a coach rather than a boss, and a manager who leverages their strengths rather than obsessing over their weaknesses," writes Harter.
The problem isn't initiative — it's purpose.
In his TED talk, author and speaker Simon Sinek points to distrust and disrespect as root causes of disengaged employees. To clarify, when employees don't trust their bosses or feel respected by them, they hold back from fully investing themselves in the work.
Re-energizing disengaged employees — what employers can do to foster engagement
Having an engaged team doesn't happen by chance. Here are four steps business leaders and managers can take to actively foster an engaging environment.
Have their backs
Leaders need to stand up for employees rather than treating them as expendable, says Sinek. After telling a story about how one successful company worked to prevent layoffs during a downturn, he says, "Great leaders would never sacrifice the people to save the numbers. They would sooner sacrifice the numbers to save the people." Humans are wired to function in tribes for safety against attacks. When employees know that their CEO has their back, engagement and loyalty will skyrocket and they will also be willing to sacrifice for others when needed. "We call them leaders because they take the risk before anyone else does," says Sinek.
Leaders need to be generous with respect and recognition
David Sturt and Todd Nordstrom, business researchers and contributors to Forbes, cite studies showing lack of recognition as the number one reason given by 79 percent of disengaged employees who left their jobs. Management can improve employee engagement by listening to feedback and implementing good ideas, by learning employees' aspirations and providing training opportunities, and by allowing them to do what they do best. Always acknowledging a job well done and thanking team members for even small positive actions and attitudes will transform the atmosphere.
Leaders need to foster engagement from the start
Start with onboarding, says Mariya Finkelshteyn of HR software provider Sapling. Let new hires know from the beginning that their opinions matter. Design a process that will ask employees for meaningful feedback on a predetermined timetable over the first two months of their employment. You'll be able to measure their developing engagement from what they tell you and then demonstrate that you've listened by using what you hear to improve overall.
Leaders need to be authentic
Improving employee engagement can't be a temporary or superficial fix. It must come from leaders who care and create an atmosphere of trust and respect. And leaders can be found at any level. As Sinek says, "Leadership is a choice. It is not a rank." The companies people love to work for encourage leadership wherever it is found.
Imagine how your businesses would be transformed if most of your staff were engaged. How do you make that happen?
Improving employee engagement will boost your organization's desirability as a place to work. It will also boost your bottom line. What experiences has your organization encountered with the challenge of employee engagement?
When you need to hire the next talented person to engage on your team, contact our recruiters. Tell us your staffing goals and we'll start the search.