How important are soft skills in the workplace? Don't they take second place to technical talent and experience?
That's not what 92 percent of talent pros, who took part in LinkedIn's latest annual Global Talent Trends research, said. Instead, they considered soft skills in a job candidate equal in importance to hard skills, or even more so.
Soft skills such as creativity, collaboration, and critical thinking are not usually included on a resume, however. Even when they are, they need to be confirmed by someone with whom the candidate has some history. For the most part, these essential traits need to be observed. That is why it can be challenging to discern these qualities before making a hiring decision.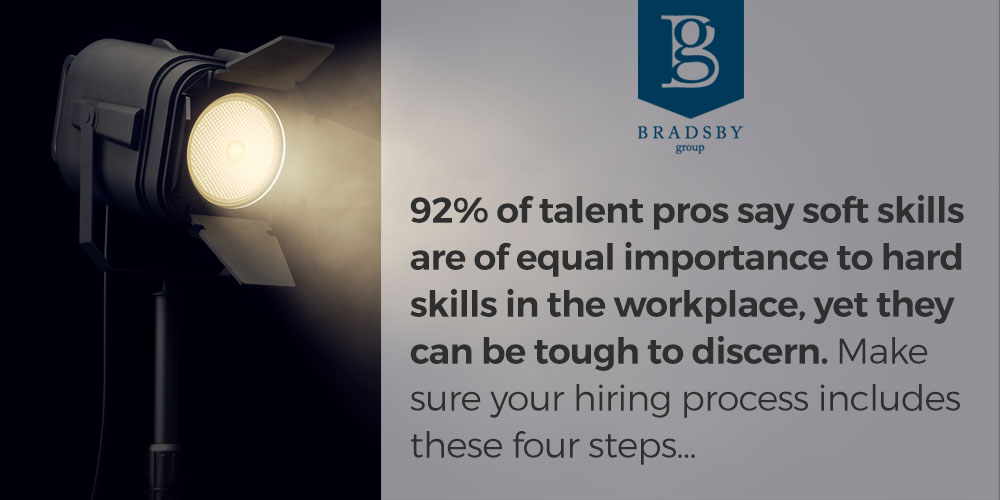 4 ways to assess soft skills in the workplace
Make sure your hiring process includes these four actions for assessing soft skills in the workplace, which can greatly improve the odds that your job candidates will succeed on your team.
Request horizontal references
If possible, source the names of not just a manager, but also former colleagues, or even direct reports of the job candidate. Ask for their perspectives on what it has been like to work with the person you're interviewing.
Observe carefully
Do interviewees arrive on time? How do they speak to administrative staff? Do they make appropriate eye contact and ask good questions? When they answer your questions, do they tell stories that correlate to the performance that will be required for your job opening? Do they give appropriate credit to team members? These observations will reveal the presence (or absence) of integrity, curiosity, respect, communication, and humility.
Ask performance-based questions
For example, ask questions like, "Describe a situation when you had to handle a shortened deadline or tightened budget." From this you'll learn how the candidate adapts to change and pressure.
Challenge them with a problem
Give interviewees a scenario to navigate. Start with an open-ended problem that can be solved in more than one way using hard skills. Make it something authentic to your business environment. Once they've answered how they would address it, give the problem new constraints in the form of "what if?" Invite them to talk through the new complexities or even take the lead at the white board, as together you discuss a potential plan of action. As an interviewer, you will see how they think on their feet, maintain their composure, and exercise creative problem solving.
Use HR tools
Yes, behavioral assessments are helpful for assessing soft skills in the workplace, but savvy candidates can learn to give the answers they know employers want. Use these tools to supplement what you learn from actual interaction with potential employees.
Train to fill the gaps
Entry-level workers may not have had time yet to develop their work-related soft skills. At the same time, some young professionals seem over confident about their own soft skills. For example, Frank Connolly writes in an HR Dive article about a survey conducted in 2018 in which three out of five young professionals said they were very confident of their critical thinking abilities. Yet when they were given a basic nine-question quiz to assess for the skill, 52 percent failed it.
Soft skill gaps in the workplace are not limited to the young. No matter where they occur, training can help. In today's tight, full-employment market, it is even more important that employers develop internal opportunities for new hires to hone their skills rather than holding out for that perfect job candidate who has it all. More experienced team members with demonstrated soft skills can be a rich resource as mentors to newer recruits.
Soft skills in the workplace are critical
As a premier recruiting firm, we understand that soft skills are critical to employees for job success and to employers for organizational stability and development. High-quality candidates possess desirable personal qualities as well as technical and professional skills. As your talent acquisition partner, we look for the best of both to meet your needs. Contact one of our recruiters today to get started.