Podcasts are a great free resource for professional development. They come in a vast diversity of topics, formats, and personalities, and we can access them anywhere and anytime. Some are informational and others are inspirational. Because there are so many professional development podcasts available, it can be challenging to know where to start.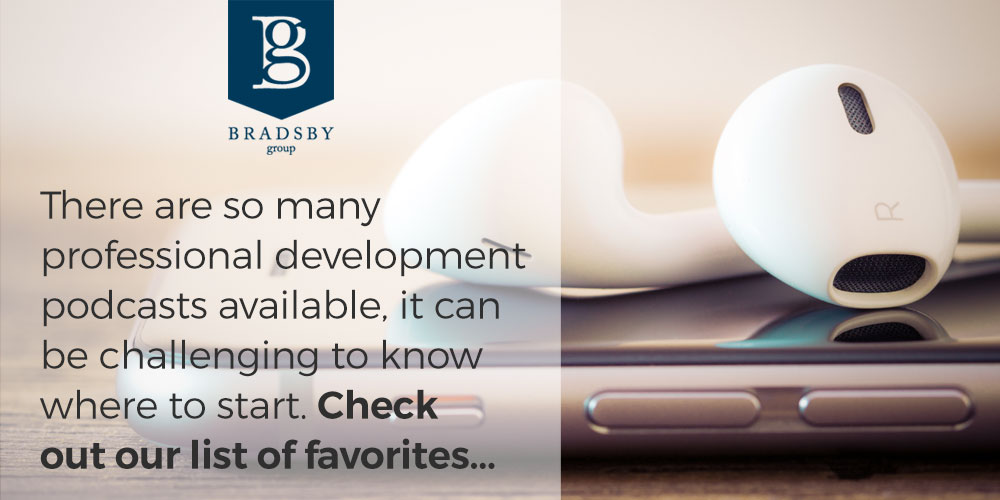 We'll recommend seven to get you started. But before we do, consider these our tips to help you choose the professional development podcasts that will best benefit you.
Look at the bio of the person doing the podcast. Does their background make them likely to be someone who can offer value to you? Can you relate to them or could they be an aspirational model for you?
Check out their website. Does it look professional and credible? If it looks like something off the front page of a tabloid, you might want to think twice.
Listen to a portion of an episode. Consider the tone, the pace, the ease of understanding. Would you be willing to listen to 30 minutes or an hour of this podcast?
Look at the roster of guests and the topics covered. Do they pique your interest?
Also, don't assume you can't learn something from someone you've never heard of. Their perspective could inspire you or help you to think about an aspect of your life in a new way.
Our favorite professional development podcasts
Safe for Work: Liz Dolan was CMO at Nike, NatGeo, and the Oprah Winfrey Network. Rico Gagliano's background is as audio host, producer, print journalist, and author. With a light touch, they handle topics that have included work-life balance, burnout, and transitions into new roles.
How I Built This: Guy Raz interviews entrepreneurs who've started from scratch and made it big. Learn how Burt's Bees, Spanx, Warby Parker, Canva, and more were born and how their originators learned from mistakes along the way.
Jocko Podcast: Jocko Willink is a highly decorated veteran Navy SEAL of 20 years. He now teaches skills he learned on the battlefield to help others lead and win. His clients include individuals, companies, and teams across a wide range of fields.
The School of Greatness: Lewis Howes is a former pro athlete, author, and entrepreneur. He invites leaders from business, athletics, and more to share their stories. Together, they explore the qualities that make people successful.
The Brian Buffini Show: Brian Buffini's story is the classic rags to riches. After emigrating to the U.S., he rose to become one of the top realtors in the country. His show focusing on sales and success is one of the most listened to business podcasts in the world.
Lead to Win: Michael Hyatt's podcast teaches leadership lessons for lasting success, with a primary audience of individuals who are already high-level leaders. Hyatt is a seasoned entrepreneur who was formerly chair and CEO of Thomas Nelson Publishing.
Claim the Stage: Angela Lussier is an award-winning speaker and author. While designed primarily to help women find and use their voice, gain confidence, and exercise leadership, her podcast is filled with content that men also will find valuable.
We are interested to hear what you think of these once you've listened to an episode or two. Perhaps you have other professional development podcasts that you would recommend. Please share so we can pass them along as a resource to those we serve.
Bradsby Group's goal is to match organizations and individuals so that they can mutually participate in professional and corporate development. Let us know how we can help. Contact one of our team members today.