Working with a recruiter is a wise move when you are seeking a new career opportunity.
Recruiters seek to place highly qualified candidates in the open positions of the companies who are their clients. They know about jobs you haven't heard of yet, and their networks reach far beyond yours. Therefore, they are well positioned to become your new ally, a highly qualified resource to help you advance your career path.
It is to your advantage as a job seeker to partner well with your recruiter. You could even think of it as your job before the dream job.
First things first when working with a recruiter
The first step is to approach the process with the mindset that recruiters are people too. Ideally, you will choose one with whom you can develop rapport and trust. Think of them as your ultimate advocates with direct access to hiring managers. An optimum relationship with recruiters, a relationship in which you show yourself to be reliable and relatable, will go a long way toward them sharing positive insight into who you are with people who can open doors to the future you want.
After all, you are more than your resume. Your recruiter will observe things like your energy level, professional demeanor, initiative, cooperation, and communication skills, and pass on what they see to hiring managers they contact.
Speaking of communication, here are four ways you can help your recruiter to help you.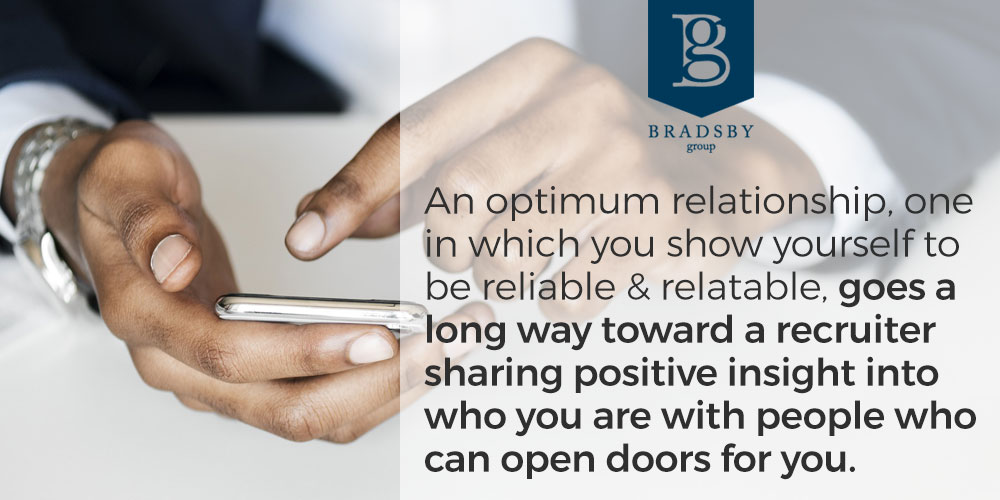 4 communication keys to working well with a recruiter
Tell the truth. Always. The last thing you or the recruiter want is to get partway through the process and have it come to light that the position you held at your last job was not what you said it was or for something to pop up on a background check. This is pretty much a deal breaker for you, and you've harmed the recruiter's credibility with their corporate partner in the process.
Respond promptly. A recruiter is working on your behalf, and when you answer questions and send materials promptly when asked, you send the message that you respect their time and that you are enthusiastic on your own behalf. Don't make them wait for what they need when they are trying to help you.
Respect their processes. Experienced recruiters like Bradsby Group have learned from working with hundreds of corporate clients and candidates what works best for everyone and have honed their processes accordingly. Yes, they will serve you as an individual, but keep in mind that a recruiter must balance the needs of everyone involved.
Also, remember that there are often times when a recruiter cannot reveal information to a candidate. Sometimes the client (the hiring company) is looking for characteristics that may have nothing to do with what is listed on your resume — and the recruiter cannot tell you. Rest assured, you're probably a great candidate, but not the right fit for a specific role.
Listen. Do they provide resources to help you prepare for upcoming interviews? Take advantage of those resources. Are they informing you about the nuances of the company they are matching you with? Pay close attention. Are they giving you feedback on how you present yourself? Consider it carefully. Overall, working with someone who has a teachable, curious spirit is the most productive situation.
Let's match you with a great company!
Bradsby Group recruiters find great satisfaction in participating in the success of both candidates like you and our corporate clients whose positions we fill. We are ready to put our experience to work on behalf of your future. If you would like to explore finding an advocate with us, at no cost to you, contact our team.